Kwandwe Melton Manor
PRICING FROM
₤ 2,196 (Pps)
Overview
Contemporary frontier farmhouse
Offered on an exclusive use basis
Own ranger and chef
Unusual nocturnal game sightings such as aardvark and aardwolf
Family friendly game lodge
Open plan inter-active kitchen
Kwandwe Melton Manor is a contemporary frontier farmhouse with a modern touch, combining traditional settler furniture with the latest in contemporary South African design. A calm natural palette gives this contemporary house its character and tone. As with Uplands Homestead, Melton Manor is offered on an exclusive use basis and is ideal for family parties or friends travelling together.
High ceilings and expansive verandas create a sense of space. Yet the deep sofas, fireplaces and welcoming relaxed feel invite you to kick back and relax. The homestead is built around a central courtyard with a large swimming pool and sweeping views of the surrounding forested mountains.
Melton Manor Homestead has four en suite bedrooms as well as a sitting room, living room dining room and kitchen. Your bedroom offers a private refuge with doors opening onto a large veranda. Spacious bathrooms with big bathtubs facing the bush views add a touch of intimacy. The rooms are inter-leading with double doors (for sound-proofing) to accommodate families.
Children at Melton Manor
Children are very welcome at Kwandwe Melton Manor - children of any age can join the game drives or participate in the children's activities with younger siblings if they prefer. On arrival all children are presented with a special Eco-guide for planet-managers containing a quiz, a learning guide and tips for spoor and animal identification. Rangers will help the kids complete their Eco-guides, help them collect pods, feathers, bugs and leaves and teach them to identify different animal species. Much to the children's delight, when all the activities in the guide have been completed, the ranger will sign a certificate at the back stating that the child has graduated as a planet-manager! Rangers take younger children on special 'Pooh Walks' on which they are taught to identify droppings and spoor. There are also fishing and frogging safaris (safety and weather permitting) and bark-rubbing expeditions. Then there are visits to the garage to oversee land rover repairs and lessons in making waxed spoor prints which can be taken home. If they aren't exhausted after all this, the chef welcomes children's assistance in the kitchen while baking cookies for afternoon tea.
Kwandwe Melton Manor gallery
Kwandwe Melton Manor on the map
Rooms
Suite(s)
Kwandwe Melton Manor is a sole-use safari villa with four ensuite bedrooms. The spacious u-shaped villa is characterised by high ceilings and deep, cool verandas, each overlooking the central courtyard and its large swimming pool. Your bedroom offers a private refuge with a large veranda, enormous bed and a butler hatch for unobtrusive morning service. The generous bathtub invites you for a soak and the large windows look out over the sweeping expanse of the bushveld on all sides.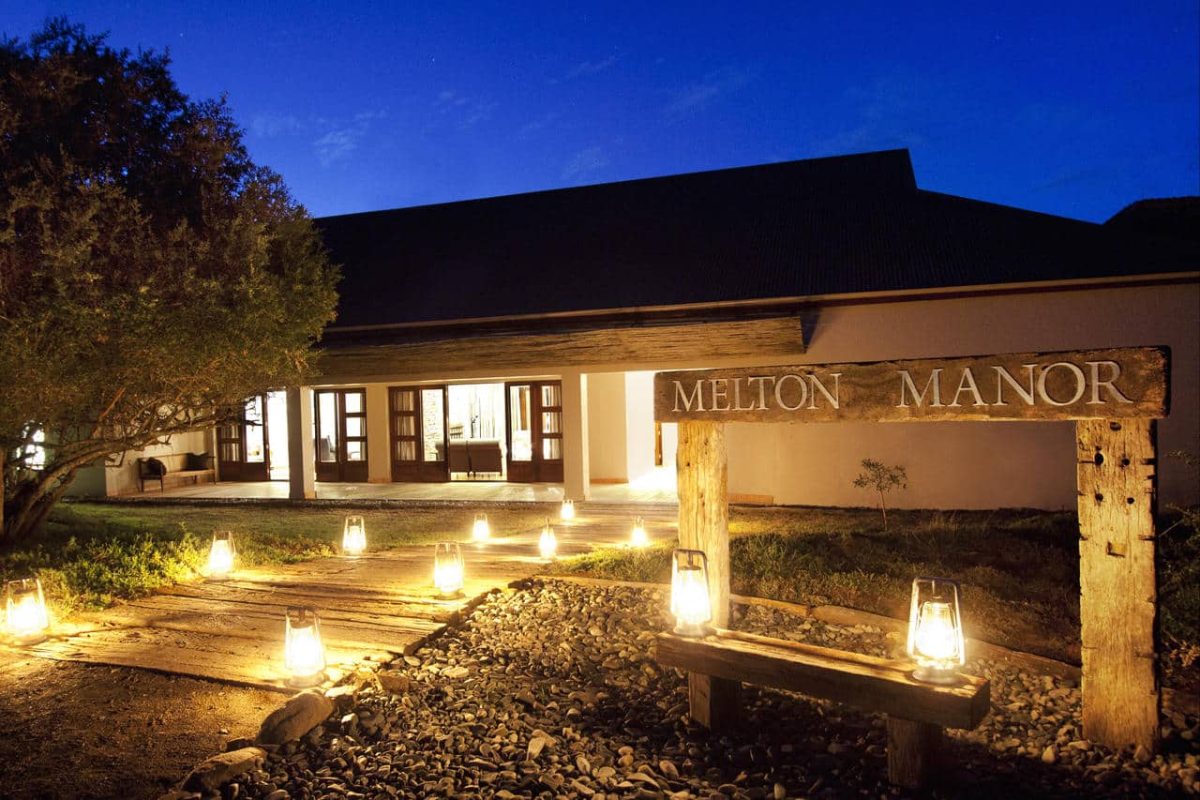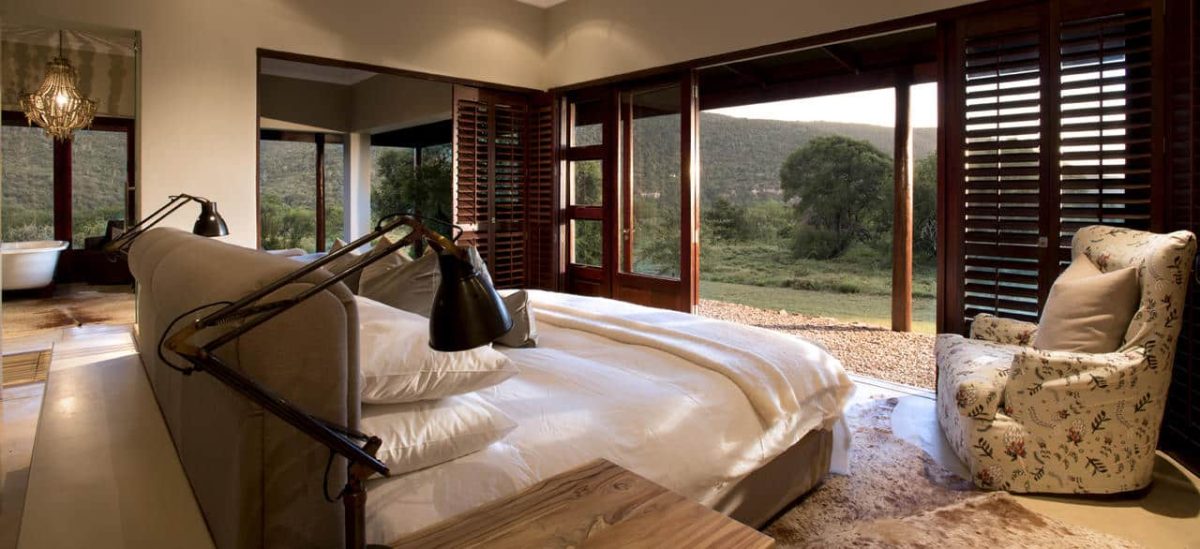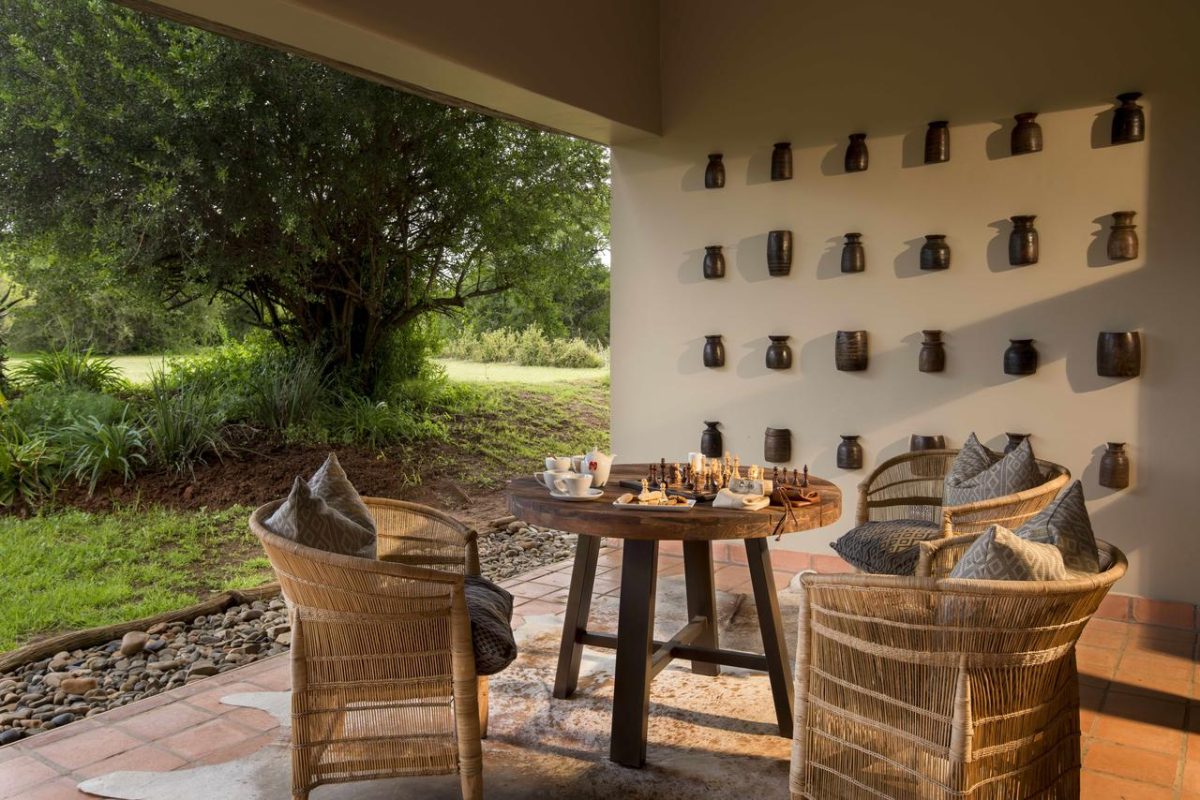 Kwandwe Game Reserve review by Kate
I recently stayed at Kwandwe again and was reminded why Kwandwe is my first choice for game-viewing in the Eastern Cape... if your budget allows.
In an ideal world you would combine a few days at Kwandwe with a Kruger private lodge as the style of safari and animals seen differs considerably. Here you are much more likely to see cheetah, (but highly unlikely to see leopard.) Similarly your chances of seeing aardvark and aardwolf are probably second to none and we even saw meerkats (though this is not guaranteed!). Elephant, lion and buffalo are also plentiful as well as black rhino which are less commonly seen (and rarely seen in the Kruger).
At Kwandwe the focus is on spotting the animals on the open plains from high vantage points rather than tracking animals in thick bush as you would in the private game reserves of the Kruger
Kwandwe in Summer and Winter
Kwandwe's climate changes dramatically from Summer to Winter with very hot days in high summer and very cold nights in winter. This leads to a very different summer and winter game viewing schedule. In summer, you wake up at 5am out 5.45am and return at the latest by 9am when it is already hot. You have plenty of time to catch up on missed sleep during the day with the afternoon drive only starting at 4.30-5pm and back at 8pm or later. However in mid winter, you sleep in, have breakfast first then out for game drive at 8-8.30am, staying out until 11am In the afternoon you meet at around 2.30-3pm for the game drive and you're back by 6pm. Autumn and spring schedules straddle the middle.
Ecca Lodge
Ecca is ideal for those preferring a modern contemporary look, which is not too minimalistic. I really liked the décor. The showers were amazing, massive with a stone backdrop and waterfall showerhead. The pleasant main rooms comprise a sitting room, cosy dining room for the winter months, summer dining on the expansive deck and a separate TV room slightly away. The food was exceptional, some of the best on the trip.
Our guide, Chase, was excellent - just the right mix of deep knowledge, enthusiasm and relaxed informality. He was clearly passionate about Kwandwe which became infectious.
Great Fish River Lodge
I actually preferred this lodge though its all a matter of personal taste. I loved the setting overlooking the impressive Fish River, the suites which were airy and light, modern yet romantic. I also loved the main building.
Melton Manor
This is the larger of the two Kwandwe villas and is ideal for larger family parties, two families travelling together or even a party of friends. Its a modern take on an old settler homestead and I loved the decor. The setting was magnificent overlooking the mountains with a rimflow pool. Bedrooms had a slightly strange layout as you came into the room to face the back of the bed (which faced the view) but that was my only (small gripe). The bathrooms were filled with light with either a bath with a view and shower or massive shower but bath with no view.
Uplands Manor
Uplands Manor is the real McCoy, an original 19th settler homestead filled with period pieces and artefacts. As such its a bit like marmite. You will either love it or hate it. Personally I love historic homes  so I loved it. But its only suited to a family rather than friends as the rooms vary in size and luxury. The fenced lawns mean that its ideal for kids who like to let off steam but I preferred the overall setting of Melton. (My comments are from a previous visit but I am assurred that the lodge hasn't changed!)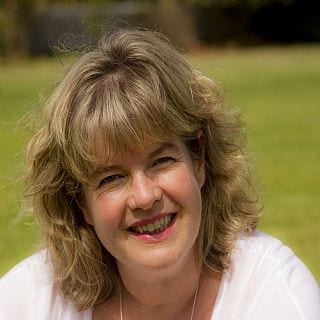 Special offers
Long Stay Discounts
Stay 4-5 nights, get 10% off; 6-7 nights, get 15% off; Stay 8+nights, get 25% off
Closed in June
Terms & Conditions: 6-7 night and 8 night offer is also valid for the whole of 2022