Overview
Kosi Forest Lodge lies in the heart of the iSimangaliso Wetland Park in Kwazulu Natal  so it is not right on the coast. Rather the lodge has an appealing forest and lakeside setting amid the mangroves, swamp figs and ferns of the Kosi lake system. This charming, rustic wilderness lodge offers you the unique opportunity of exploring a pristine wetland environment by guided canoe, by boat and on foot.
Kosi Forest Lodge comprises eight comfortable thatch and canvas rooms, raised on wooden decks within the sand forest. Each has a romantic bathroom, with a sunken open-air bath for star-gazing and an outdoor shower.
Sandy paths take you to the swimming pool overlooking the beautiful Lake Shengeza or to the central lodge area with its open air sitting/dining area and cosy bar. Nearby there's a campfire and a short distance away is a romantic bush dining area under a magnificent tree hung with lanterns. A particularly nice touch is that a local choir offer a singing performance after dinner several times a week. Candles light the main lodge at night giving it a warm, romantic ambience reminiscent of explorer adventures of long ago.
Activities at Kosi Forest Lodge
Coastal Maputaland in Kwazulu Natal, is one of my favourite areas of South Africa with its lush vegetation, unspoilt setting and friendly people. What makes Kosi Forest Lodge special is its range of activities. Enjoy guided canoeing on the tranquil lakes, boat cruises and birding walks in the ancient raffia forest and perhaps even some rather potent iLala palm wine-tasting. A full day excursion by boat takes you through the 18 km lake system, examining the ancient Tsonga fish traps to a secluded beach for a beach picnic with swimming. Another excursion is to Kosi River Mouth with swimming and snorkelling on offer. Turtle tracking is also a highlight for summer visitors from November to February. Home to the Palm Nut Vulture and Pel's Fishing Owl, the area can also be explored by keen birders on a guided morning or evening walk into the raffia palm forest, whilst the canoeing trip is also very rewarding for birders.
Kosi Forest Lodge is ideal for families with slightly older children who'll enjoy the activities on offer. There are two family chalets which consists of two chalets next to each, connected by an outdoor passage of approximately 2 metres long.
Note: Kosi Forest Lodge will not suit everyone as it is quite rustic. The tents have limited electricity (with just about enough power for bedside lights at night, and recharging camera or cellphone batteries, but not for hairdryers). The romantic bathrooms have an alfresco bath and shower, in addition to an an indoor en-suite shower, toilet and basin. There's much use of lanterns at night, and the paths are sandy and not wooden boardwalks. You also need to be able to walk comfortably for 15-20 minutes in order to participate in the activities.
Kosi Forest Lodge gallery
Kosi Forest Lodge on the map
Rooms
Double or Twin Room
The rooms are constructed of wood, thatch and canvas each positioned to give total privacy. They are comfortably furnished with mosquito nets, fans and tea & coffee making facilities. A unique feature of each room is the romantic outside boma bathroom with bath and shower set in soft white sand under the forest canopy. Each room also has an indoor en-suite shower, toilet and basin.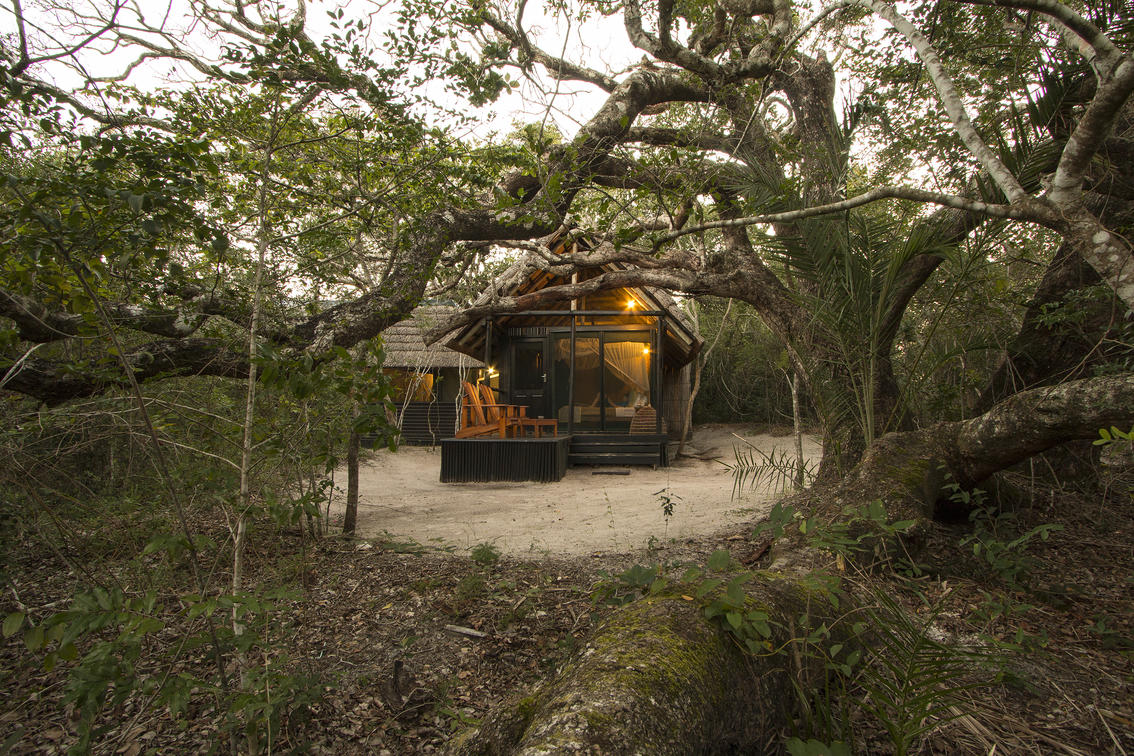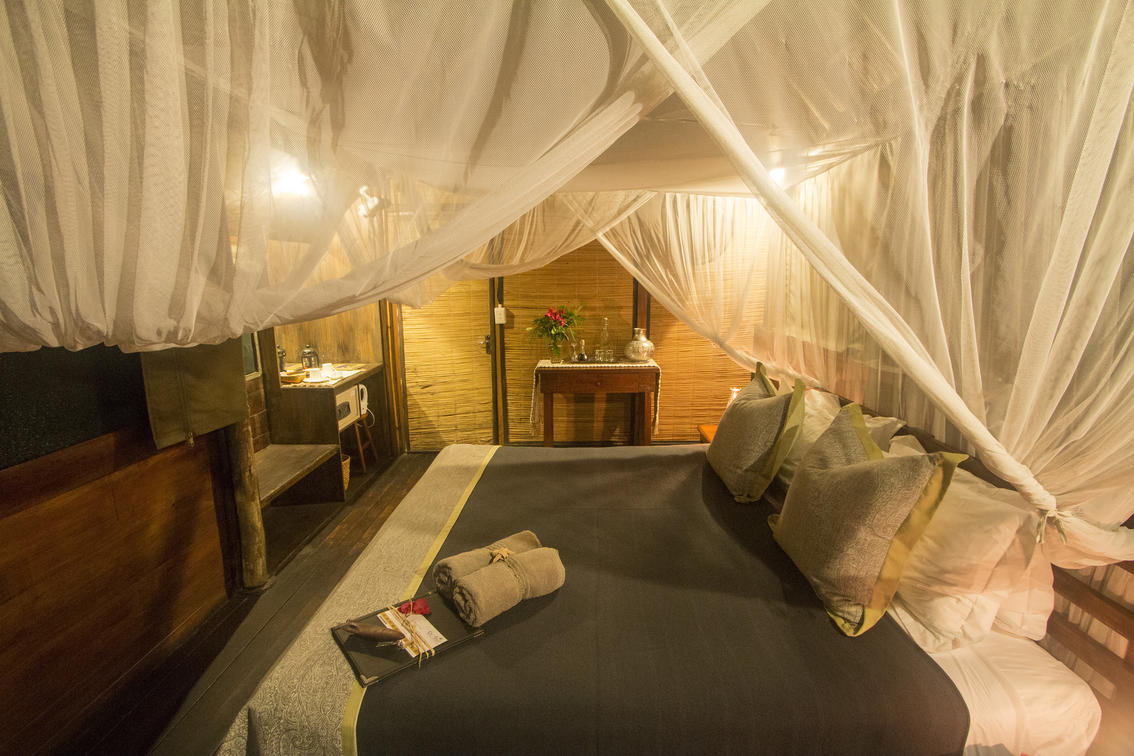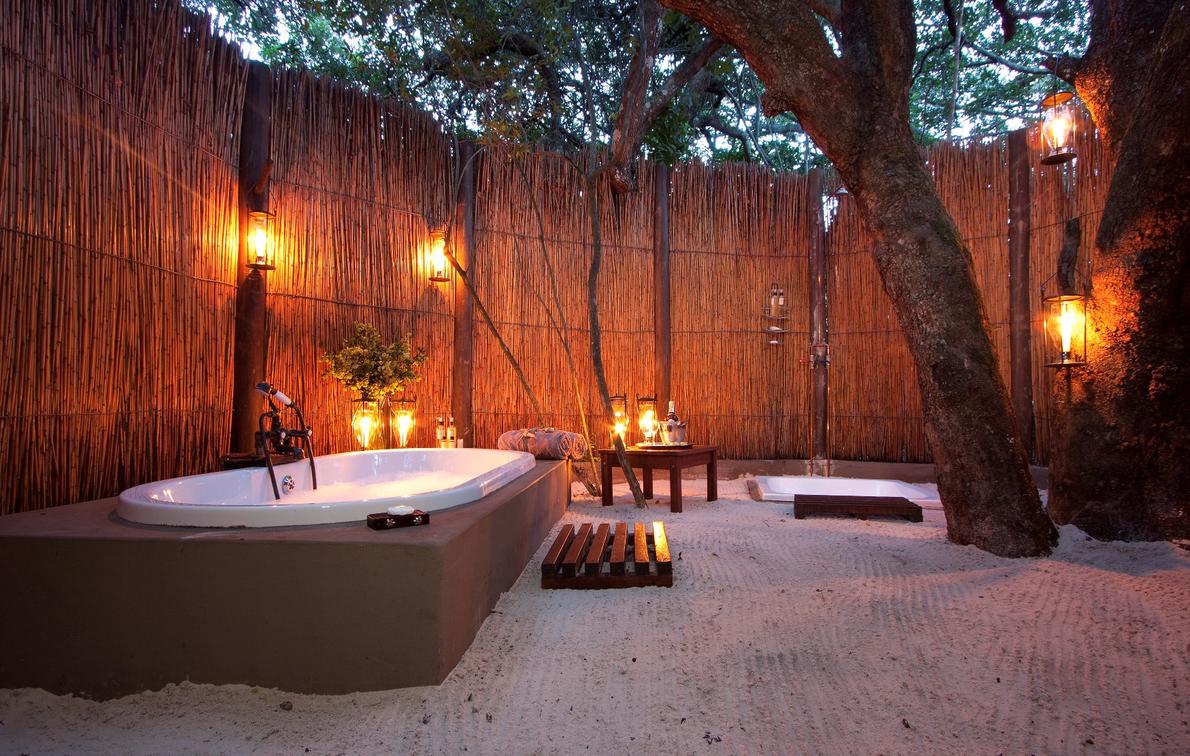 Family Room
There are 2 family rooms which consist of 2 bedrooms. The main bedroom has an en-suite outdoor bathroom with shower and bath set in soft white beach sand surrounded by a reed boma. There is an indoor en-suite toilet and basin. The second bedroom has an en-suite indoor shower, basin and toilet.
The 2 rooms are connected by an outdoor passage of approximately 2 metres long.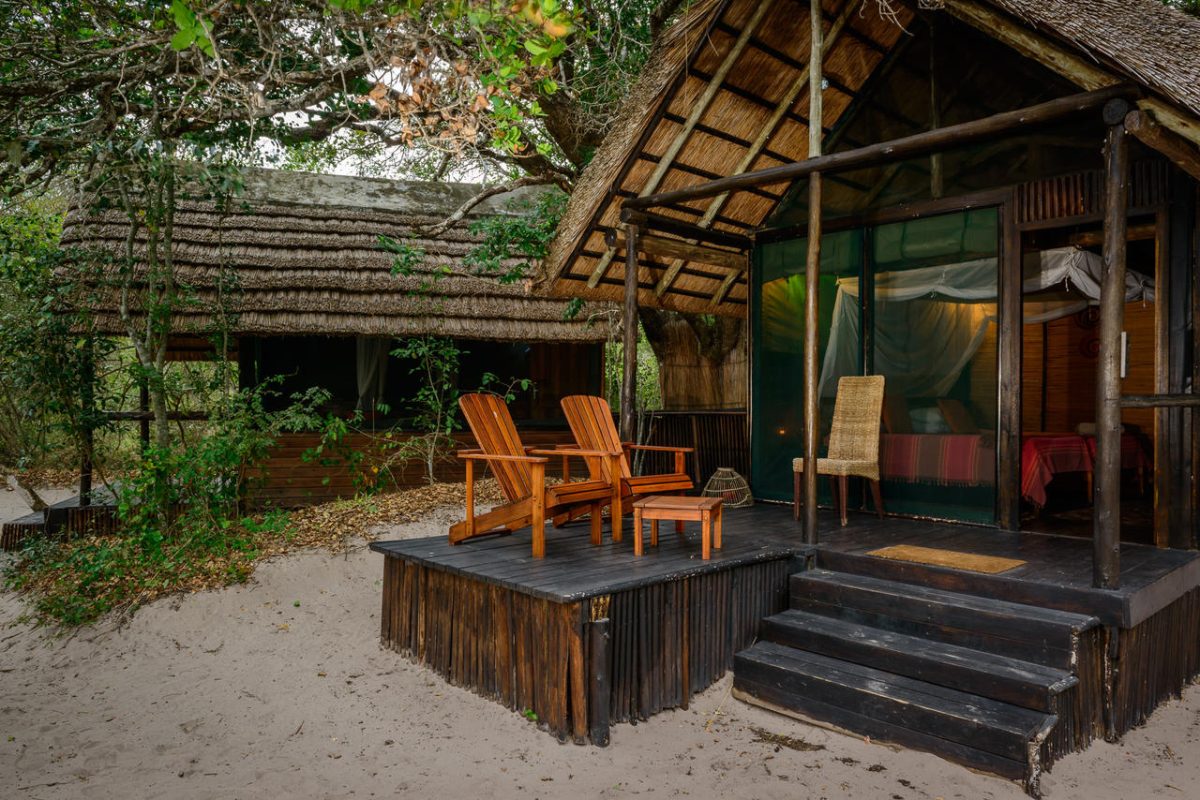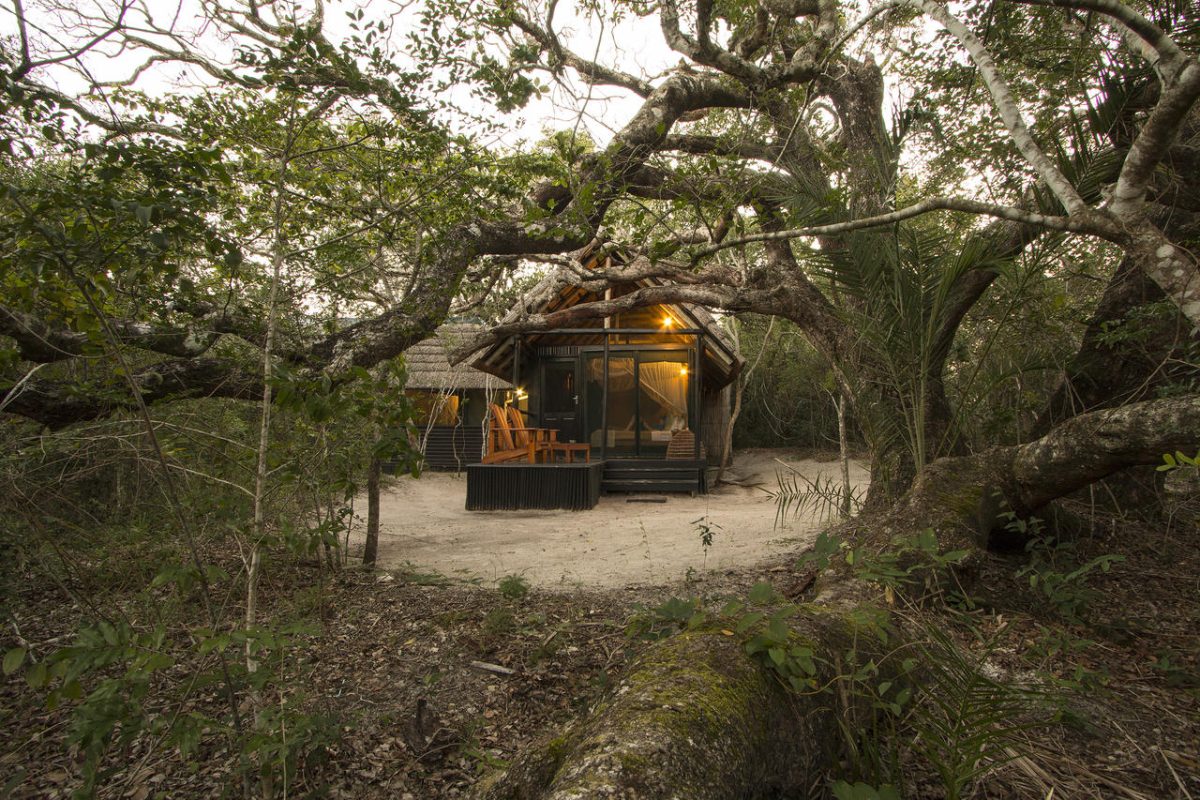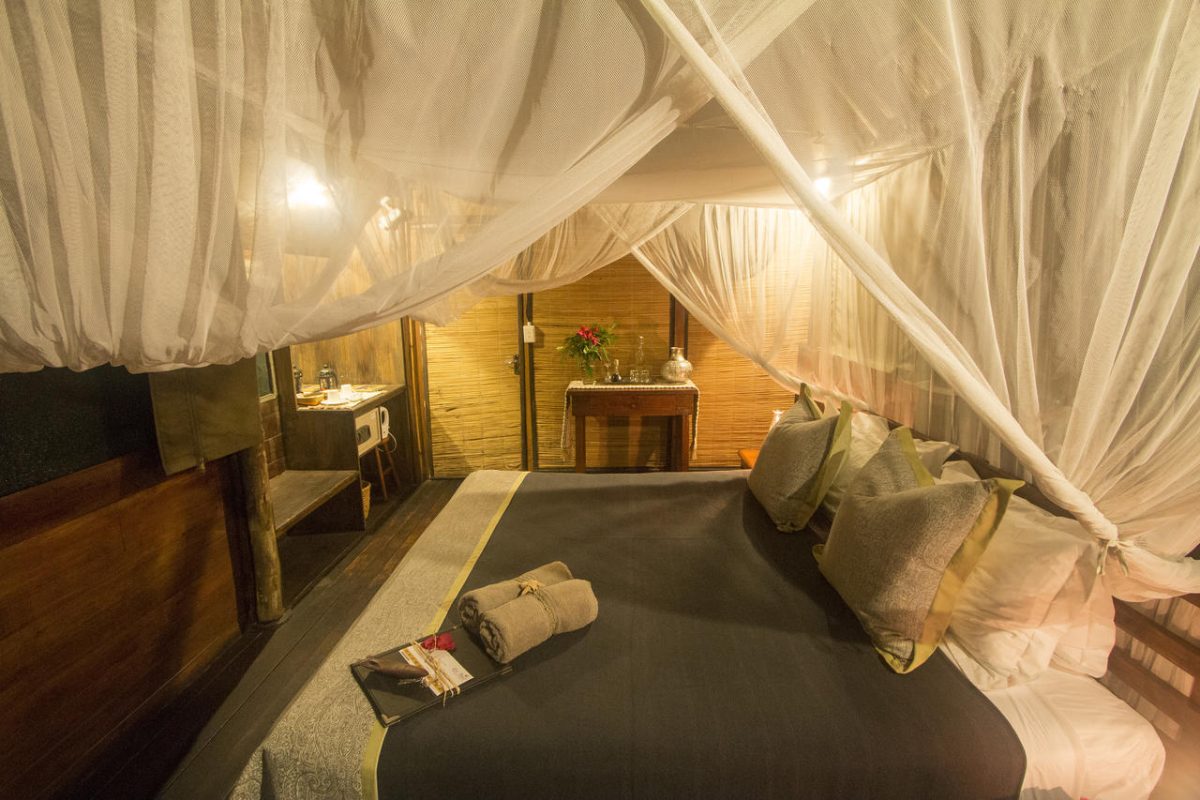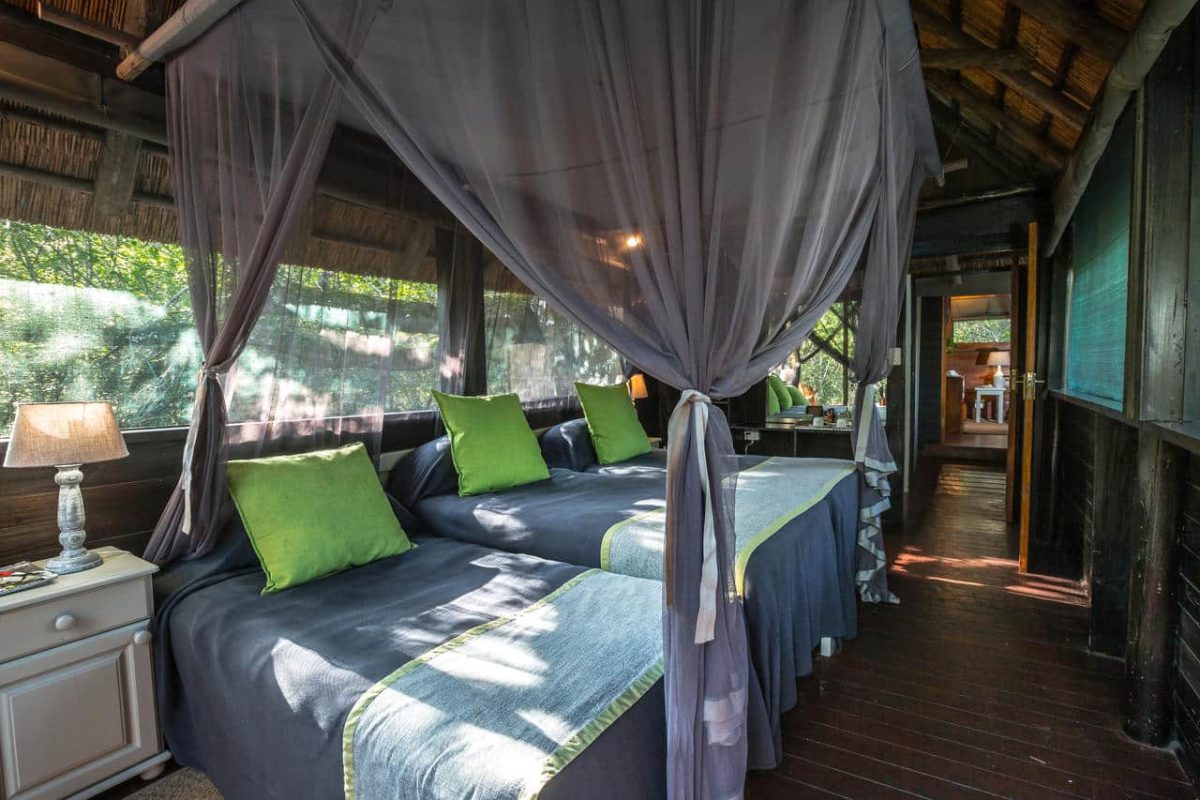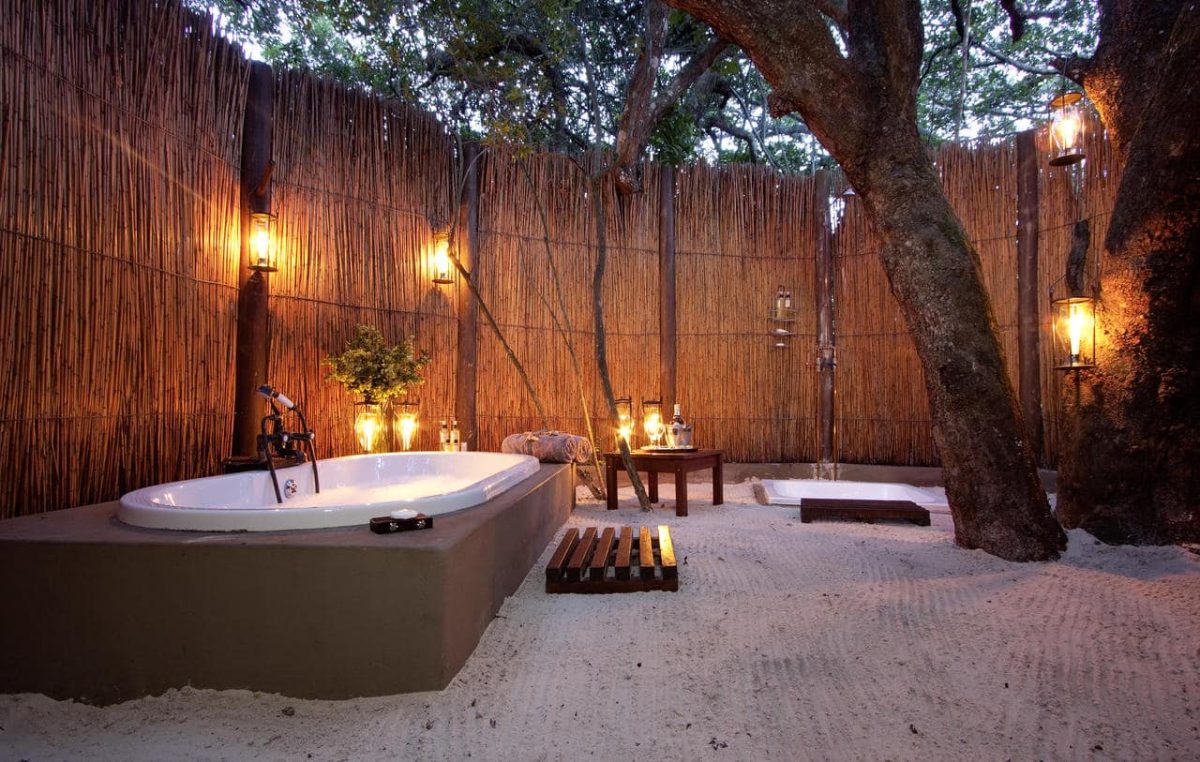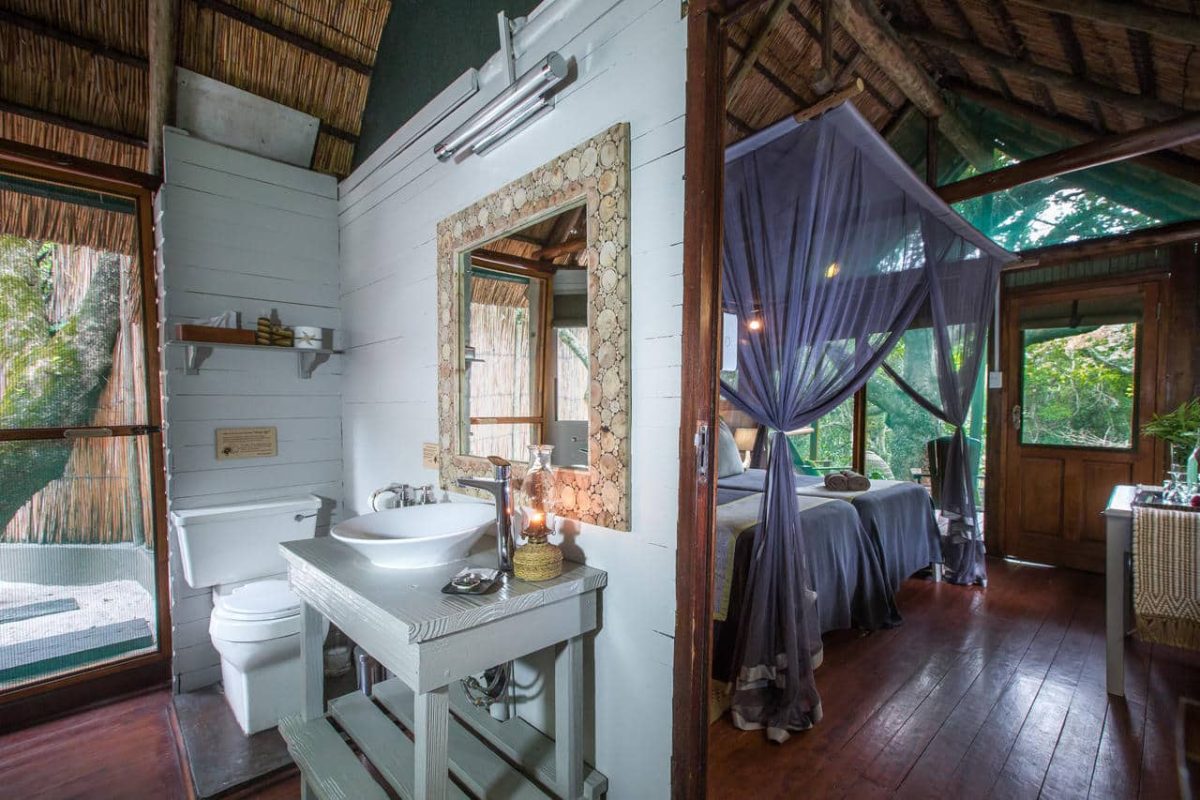 Special offers
February Special
Stay for a minimum of 2 nights and your friend stays for free!
Friend for free (min of 2 nights and limited rooms available)
Excludes: Limited rooms available.
Terms & Conditions: Also available in Feb 2024
Isibindi Combo Offer
Get long stay discounts for your stay at 1 lodge or a combination of lodge, depending on number of nights at Isibindi Lodges
Get long stay discounts depending on number of nights at Isibindi Lodges (Thonga Beach Lodge, Kosi Forest Lodge, Rhino Ridge Safari Camp & Tsowa Island Camp) - 5% for 5 night stays, 7.5% for 6 night stays, 10% for 7 night stays and 12.5% off for 8 night stays
Winter Offer
Stay 3 nights and only pay for 2 nights
Excludes: Also available in Sept 2023, May-June 2024