Overview
Bale Mountain Lodge is set high in the mountains, on an 8 hectare plot within the cloud forest, with views overlooking a large clearing which is used by animals for grazing and foraging. The lodge uses a mixture of contemporary and traditional designs centered around two large fireplaces which encourage an inclusive and cosy atmosphere within this truly remote and wild environment. All of the 15 rooms are large and offer comfortable beds, private decks and wood burning stoves. All rooms are hidden from view from any other to permit guests to feel totally isolated whilst being safe and warm. The lodge is a superb location from which to explore the forest and the plateau, both of which offer walking safaris in the company of a knowledgeable guide. Access to the Rift Valley, with its camel markets and dry dusty conditions is a mere 1 hour drive to the south and the Sof Omar caves, Africa's largest limestone cave system is a return day trip to the North.
Accommodation
Bale Mountain Lodge is designed to accommodate 30 guests in 15 rooms. There are three types of room, which are quite different in feel and function.
Four rooms are luxury tree houses set around the base of large forest trees
Three rooms near the main lodge are fully wheelchair accessible with designs that emphasize use by those with mobility issues but are also well suited to families
Eight rooms, all unique, are of stone and wooden construction set around the 8 hectare site
Every room has private views and the site is 100% eco-friendly with power coming from the lodge's own Micro-Hydro power plant, bio gas providing cooking gas, heat pump hot water systems and with all waste managed to prevent any contamination and to make the lodge 'carbon positive' to the environment.
Lodge
The open plan living and dining room has traditional architecture with a high thatched roof lined with bamboo. A large sunken fireplace acts as the focal point of the room with fires laid on both the lounge and dining room sides of the hearth. Comfortable sofas and armchairs, Ethiopian rugs and friendly service create a sense of luxury and relaxation and guests are encouraged to meet before dinner for sundowners around the external fire pit on the front deck. For those who want their own space there is an additional 'snug' room set off the bar area with its own fireplace and with an emphasis on quiet contemplation and relaxation.
Facilities at Bale Mountain Lodge
A wide eucalyptus wood deck encircles the lodge and offers additional space for al fresco dining or taking tea and cakes in the afternoon. Walkways extend around the site to numerous attractions; a waterfall fed rock pool is ideal for cooling down on hot days; secluded benches and pagodas are great spots from which to watch the wildlife, or simply get away from the pressures of modern life; the lodge spa offers massage, manicure, facial services and a hot tub in a location which straddles the mountain stream, adding the gentle sound of running water to the feel of seclusion and privacy. All of the paths and decks permit views of the clearing, the stream, a wetland habitat (which harbours many endemic species of fogs and newts) or of the lodge pond, a 6000 m2 water feature which attracts migratory birds and local wildlife.
Bale Mountain Lodge on the map
Rooms
Forest Cottages
5 of the 11 rooms are wood & chukka constructed forest cottages (one of these being a tree house) with three of the rooms built of local stone. The regionally sourced materials and furnishings mix traditional design and contemporary style which along with wood-burning stoves create a cozy, warm atmosphere. All the cottages have sweeping views of the natural clearing and mountain range beyond.
Jackal House - 3 bedroomed house
For parties travelling together, a spacious 3 bedroomed house, with its own log fire, offers private accommodation.
Main Lodge
3 rooms are adjacent to the main lodge and come with full disabled access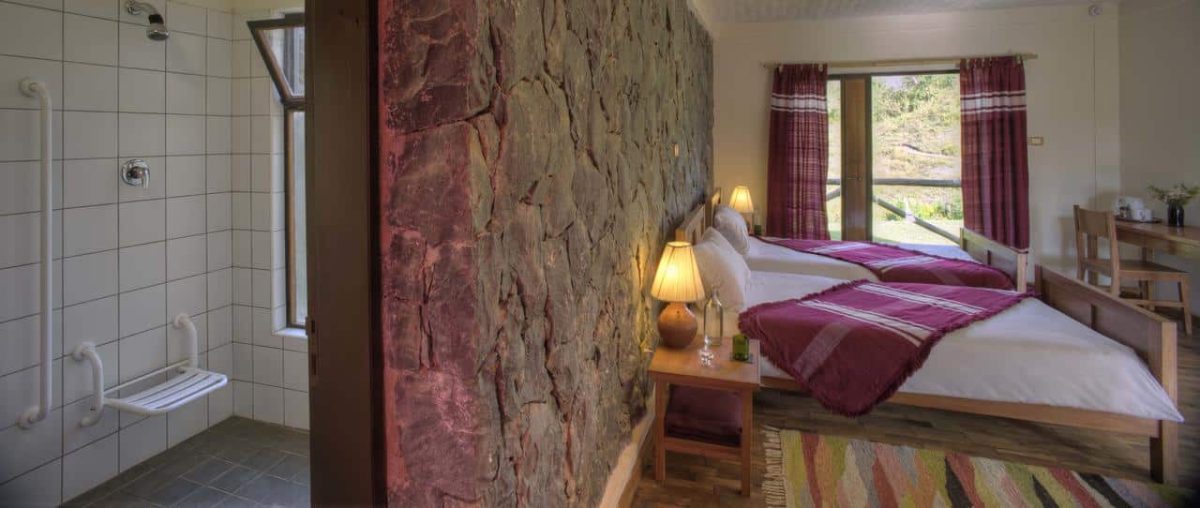 Authentic
"We loved our time at Bale Mountain Lodge which has a range of activities on offer. We looked for the elusive Ethiopian wolf on the plateau, did a spot of early morning bird-watching, walked to an enchanting waterfall with its own rock pool for a very cool swimming opportunity (in more ways than one.) We visited one of the local villages for an authentic Ethiopian coffee ceremony with delicious Ethiopian side dishes. Finally we hiked up the steep mountain near the lodge. The walk was immensely beautiful through the rainforest and then the bamboo stands, though it's fair to say I perhaps enjoyed the views more on the way down than up! Our Ethiopian guides, used to the altitude or perhaps naturally fit, scampered on merrily whilst we huffed and puffed our way up but it was worth it for the truly awe-inspiring view over the forest. "
Stunning park
"It was great to see some of the very different wildlife that Ethiopia has to offer highlights being Ethiopian Wolf, Walia Ibex, Giant Molerat, Mountain Nyala and Bale Monkey. "
Stunning Location
"Bale Mountain Lodge has a lovely location. Our room, whilst in a good location, needed a little bit of maintenance. The bathroom and the room was very cold in the evening until the fire was lit and again in the morning. So come with warm clothes! "
Includes
Full board, non-premium drinks, one daily activity on foot,
Family Suitability
Family-friendly all ages
Malaria Rating
Non-malarial area