andBeyond Phinda Mountain Lodge
Overview
 Recently rebuilt to offer luxurious suites
 Phinda is the original & largest private game reserve in KwaZulu Natal
 Very child-friendly with activities for kids
 Spectacular position perched on a ridge overlooking the reserve
 All suites have private plunge pools
Phinda Mountain Lodge is a sophisticated harmony of ethnic décor, superb cuisine, and personal service. It lies in the southern part of Phinda Game Reserve, a 23,000ha private game reserve in northern KwaZulu Natal. With wraparound views of the ancient Ubombo mountains, Mountain Lodge balances majestically above its beautiful surroundings. It offers a winning combination of soft adventure, Big Five game-viewing and inspired lodge design. It is also a birder's paradise with over 415 recorded species. Phinda Mountain Lodge is also known for its family safaris.
23 spacious split-level suites are scattered along the mountainside offering complete privacy and luxury. Each has a bedroom area on one level and a sitting area below as well as bathroom, private deck with plunge pool and outdoor shower. Three of these suites are ideal for families being joined together at the deck. There is also one larger family suite for larger family parties.
The main lodge is set around a central courtyard. The intimate sitting areas lead out to a shaded terrace and a spacious veranda area on three tiers which ensures privacy for all guests as there are plenty of place to relax in solitude. All the terraces offer spectacular views of the bushveld beyond. In the evenings, the sun sets on the horizon flooding the lodge with golden light.
Facilities
Other facilities at Phinda Mountain Lodge include a great safari shop, an interpretative library, dramatic open air boma where delicious cuisine is served around the open fire. The lodge also has a good-sized swimming pool and a shaded observation area which is a great place to relax with a book and binoculars during the heat of the day.
Rich both in game and in stunning scenery, Phinda Game Reserve boasts the diversity of seven contrasting ecosystems, including sand forest, mountain bushveld and wetlands. This diversity of habitat naturally attracts a variety of game including lion, elephant, cheetah, leopard, rhino, hippo and an abundance of general game. Phinda is particularly known for good cheetah sightings, and its prolific bird life (over 400 species recorded). Guests staying at Mountain Lodge can enjoy game drives, nature walks, river cruises on the Mzizene, and community visits. Given the reserve's proximity to the Indian Ocean, Phinda is able to offer optional extras such as Maputaland beach adventures, night turtle drives (seasonal), scuba safaris, or an incredible ocean safari that offers you a host of marine life sightings.
Family Safaris at Phinda Mountain Lodge
Children are very welcome at Phinda Mountain Lodge and children of 6 upwards can join the game drives. On arrival at Phinda Mountain Lodge, all children are presented with a special Eco-Guide for Planet-Managers containing a quiz, a learning guide and tips for spoor and animal identification. Rangers will help the kids complete their eco-guides, help them collect pods, feathers, bugs and leaves and teach them to identify different animal species. Rangers take younger kids on special walks on which they are taught to identify droppings and spoor. There are also fishing and frogging safaris (safety and weather permitting) and bark-rubbing expeditions. Then there are visits to the garage to oversee land rover repairs and lessons in making waxed spoor prints. If they aren't exhausted after all this, the chef welcomes children's assistance in the kitchen while baking cookies for afternoon tea.
One child (up to 16 years) can share with their parents. Or you can take a family cottage (two inter-leading rooms for up to 5) or opt for the rather luxurious Family Suite (for a maximum of 4 adults and 4 children). If you opt to take a private vehicle then younger kids can accompany their parents & siblings.
andBeyond Phinda Mountain Lodge gallery
andBeyond Phinda Mountain Lodge on the map
Rooms
Suite(s)
Phinda Mountain Lodge's guest suites crest the mountain's edge, offering breath-taking raptor's-eye views of the reserve below. Each luxurious suite boasts an elegant ensuite bathroom, private sitting area and a spacious veranda with a plunge pool and outdoor shower.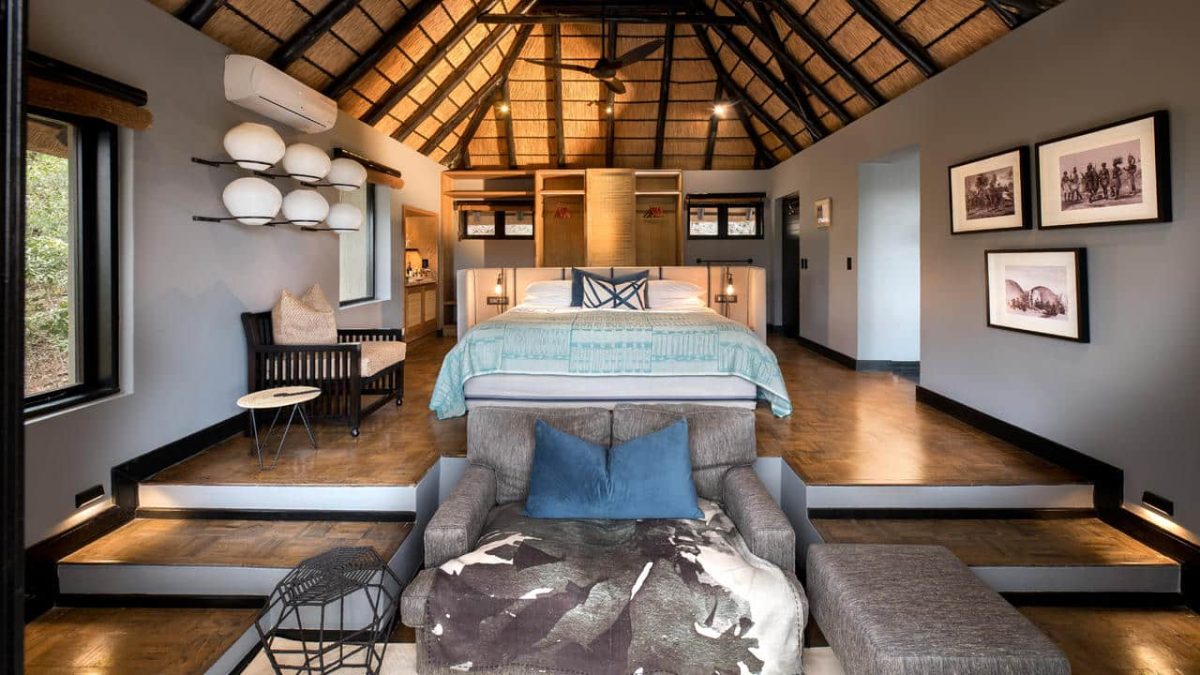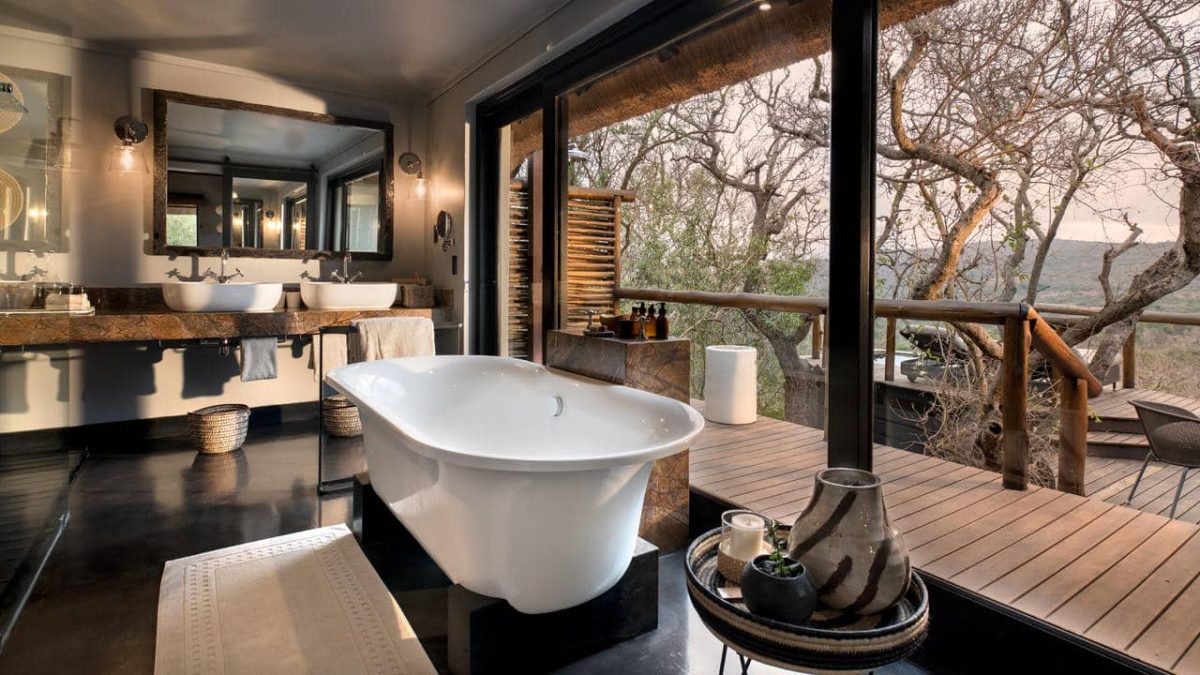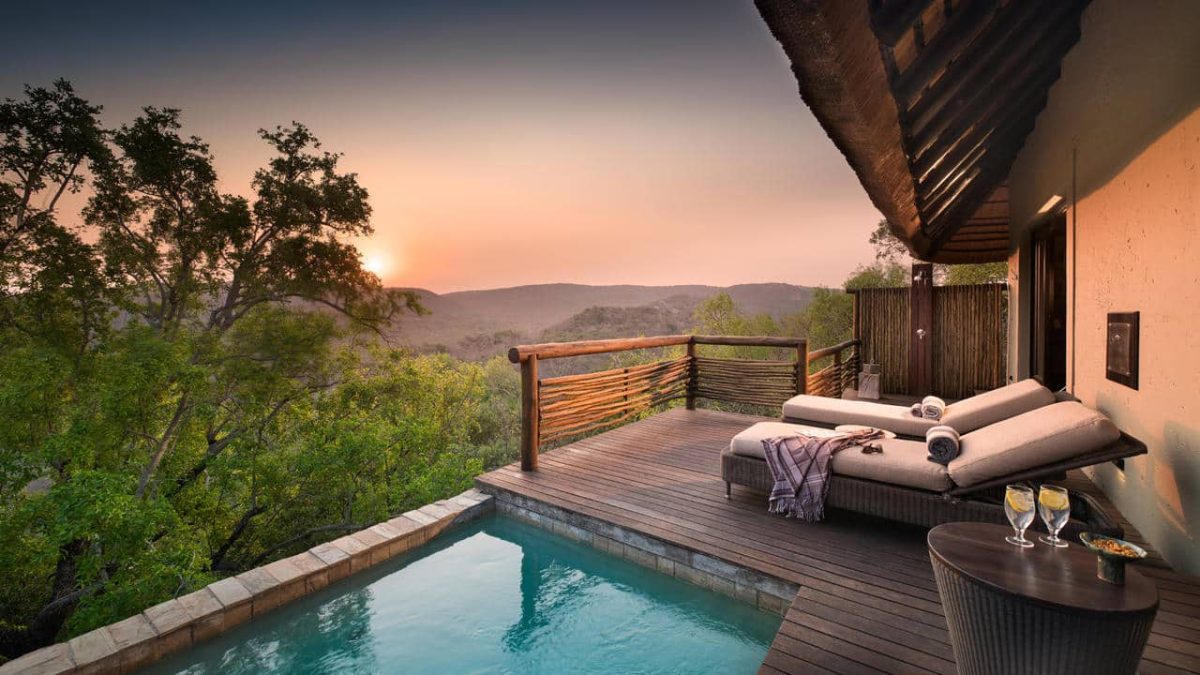 Cottage(s)
Phinda Mountain Lodge's six guest cottages each feature an elegant ensuite bathroom, private sitting area and a veranda with a plunge pool and outdoor shower. The cottages are slightly smaller than the suites, and feature interleading doors which convert them into family cottages.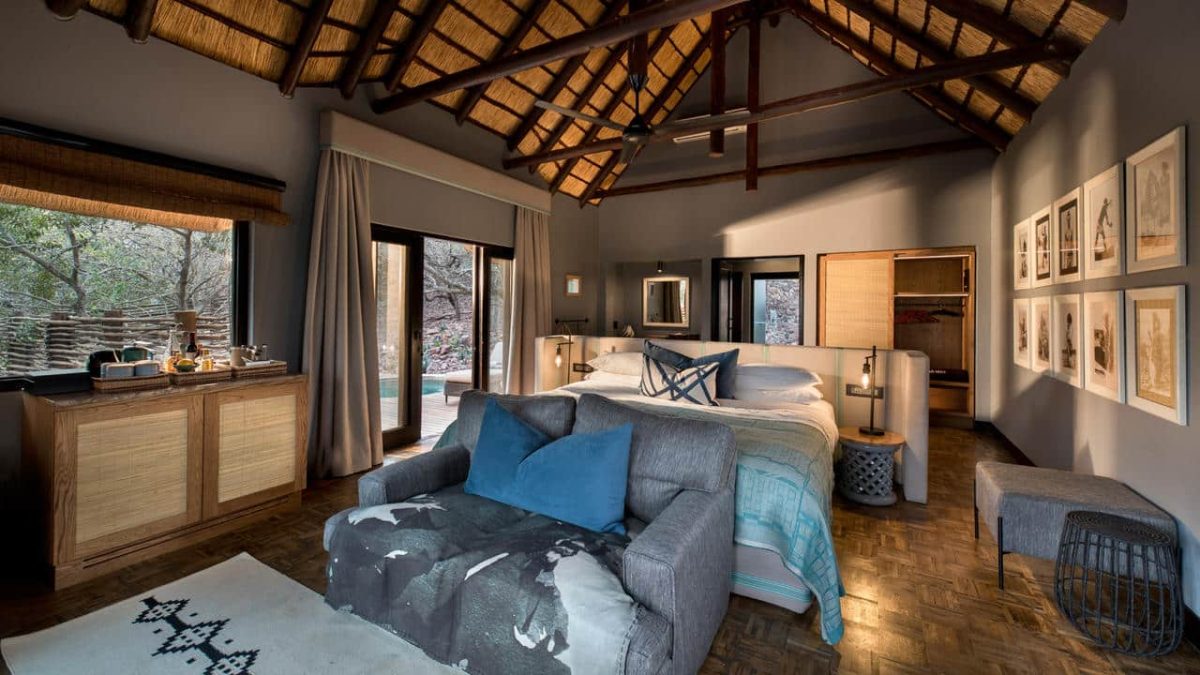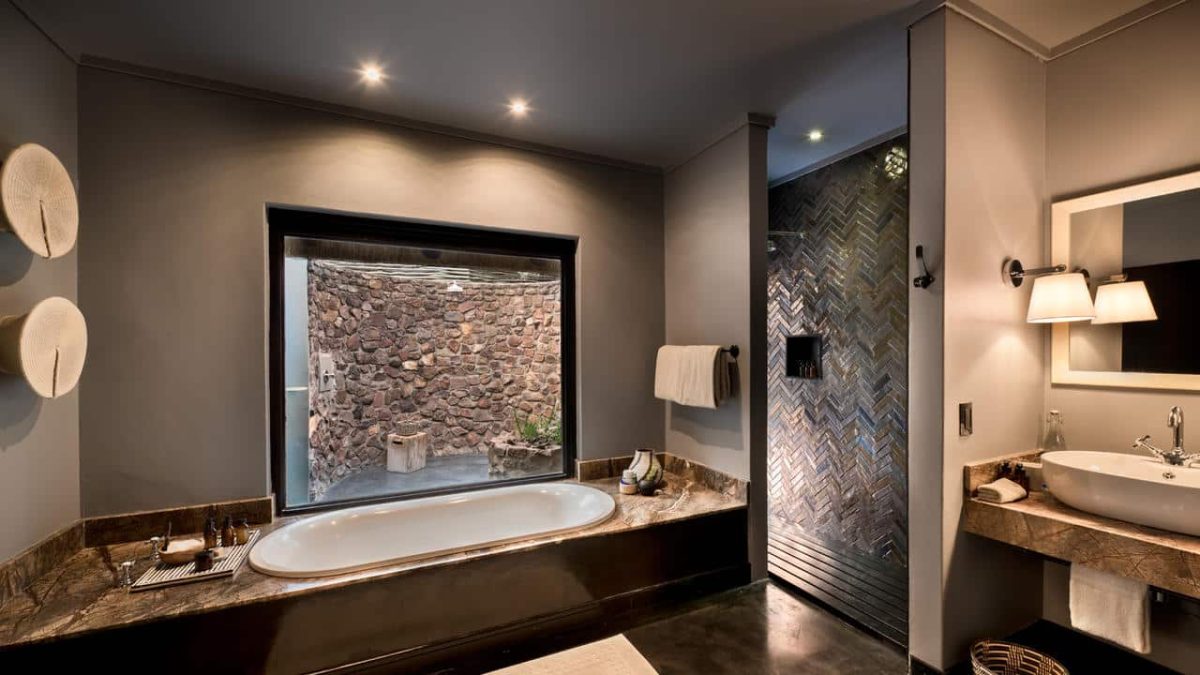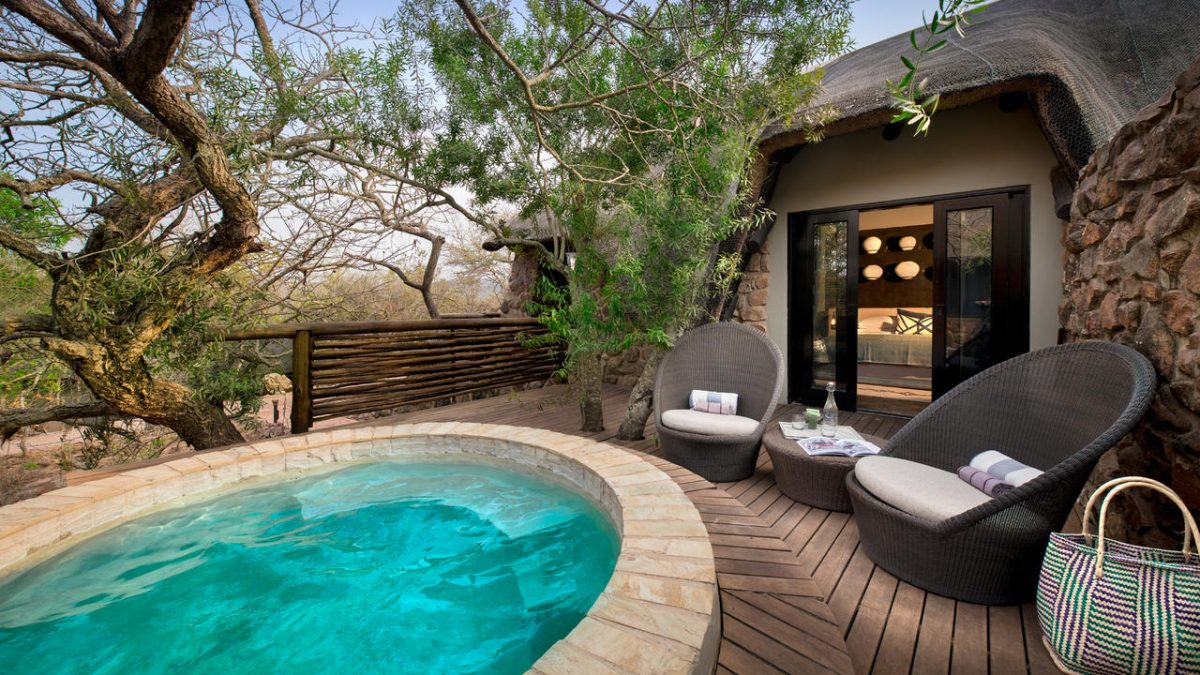 Family Suite
Spacious and comfortable, the beautiful family suite at andBeyond Phinda Mountain Lodge is designed to provide just the right balance of privacy and security for larger families travelling with children. The suite boasts a shared lounge area as well as two elegant adult bedrooms, each with an ensuite bathroom (with indoor and al fresco showers) and two interleading children's rooms, ensuring that parents can keep a watchful eye on younger children. A private veranda off the shared lounge offers the ideal setting for gathering and swapping tales of the day's adventures, whilst a nearby pathway leads directly to the covered deck around the lodge pool. Booking the family suite entitles you to a dedicated private safari vehicle for the group, ensuring a tailor-made family safari experience for everyone. The family suite can accommodate up to four adults and four children.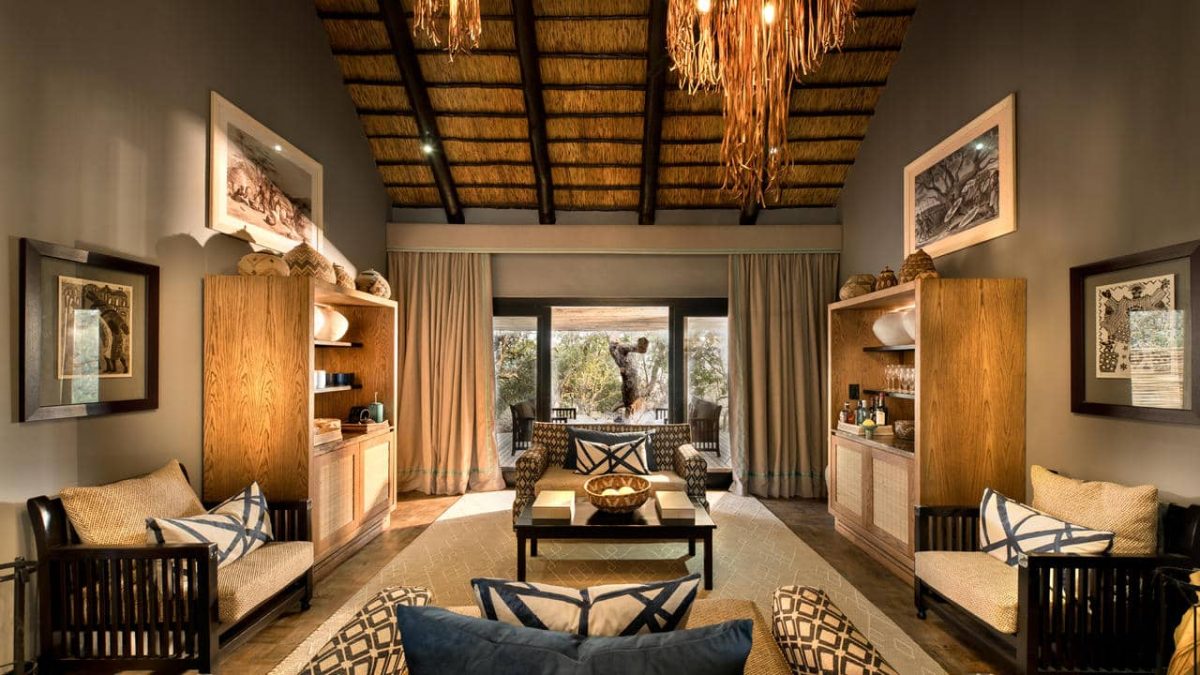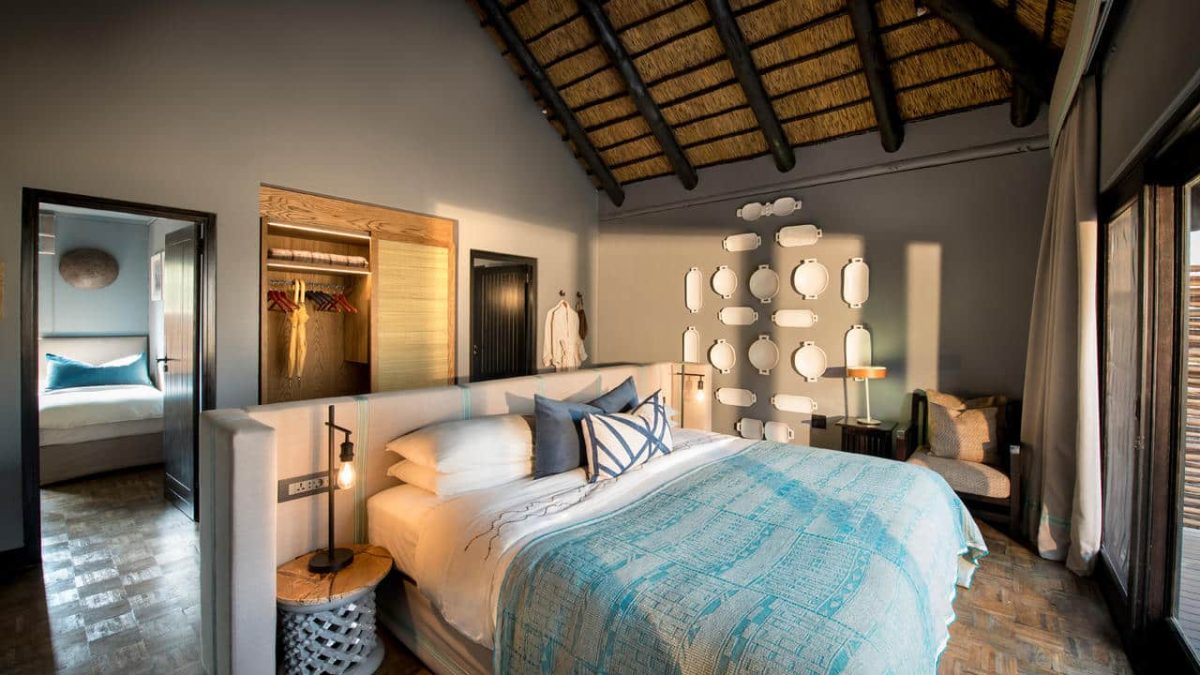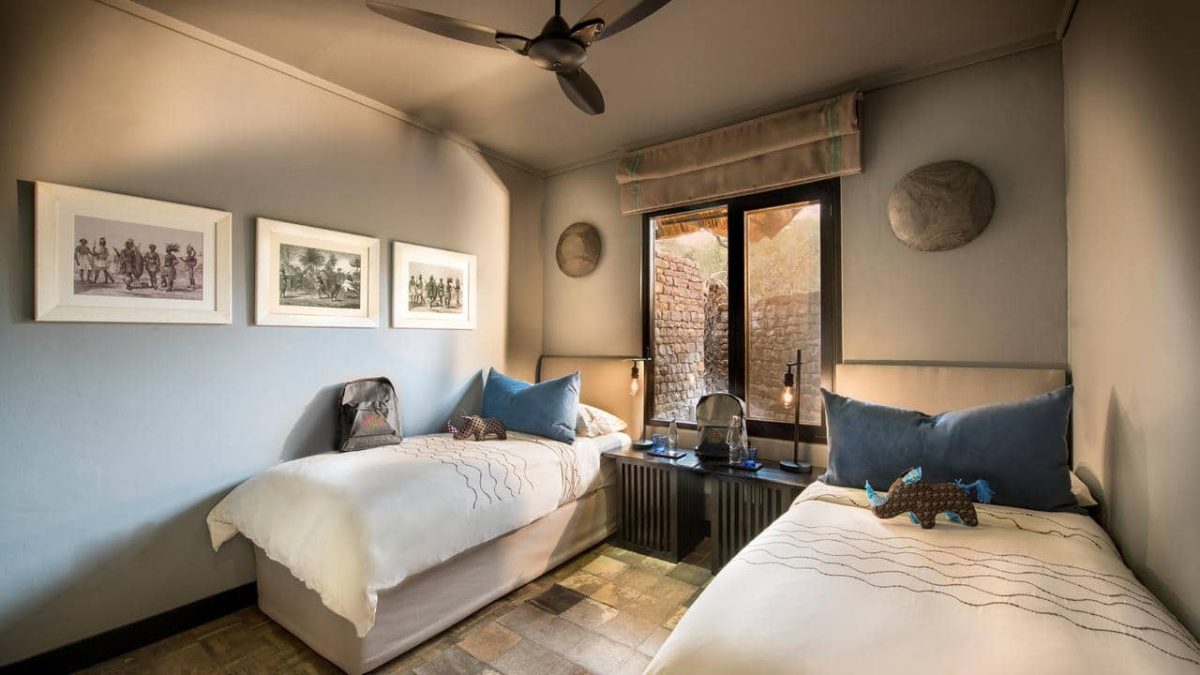 Great game viewing, all round exceptional
"Phinda was also exceptional. The staff were just incredible and we had 'Lucky' as our Ranger and he was excellent too. We saw 4 cheetah, Leopard, Elephant, Hyena, Hippo, Lion, Rhino and all the other animals – so again saw the big 5 plus Cheetah. We had an amazing outdoor dining experience on our first night and the food here was a step above everywhere else. Truly outstanding. "
Special offers
Honeymoon Offer
If you stay for 2 or more nights, the bride pays only 50%
If you stay for 2 or more nights, the bride pays only 50% (based on the 1-3 night price, not long stay rates)
Terms & Conditions: Not combinable with other offers
Long stay Offer
Stay 3 nights at any Phinda camp & get either a flight rebate for the Johannesburg to Phinda flight OR return road transfers from Durban for free - see details
Stay 3 nights at Phinda Mountain, Forest, Zuka, Vlei or Rock Zuka and get either a flight rebate of R2,750 per person per way for the Johannesburg towards any SA Airlink flight to or from Phinda. OR complimentary return road transfers from Durban. The SA Airlink flights need to be booked with us. Only valid on the 1-5 night rate.