St Helena tour
Outline of a 7 night fly-in tour to St Helena island. The island has so much to offer that we show a mix of excursions covering history, flora, marine exploration & walking. 
Overview
Saint Helena, (or St Helena as it is also called), is one of the world's most remote islands, situated above the Tropic of Capricorn, almost midway between Namibia and Brazil. This small island is big in opportunities for active exploration, boasting spectacular scenery that encapsulates a breath-taking range of habitats and landscapes. Below we outline a typical 7 night tour to St Helena. The island has so much to offer that we show a mix of excursions covering history, flora, marine exploration & walking. But a trip to St Helena can be easily altered to suit your interests.
Diving - especially December to March
Most commonly we adapt it for keen divers to include two or three diving excursions during the week. Or we can adapt it to be more focusing on enjoying the outdoors with more walking and slightly less history. Here's an example of a digital itinerary with diving on St Helena
So feel free to come to us for a tailormade tour.
Saint Helena packs a lot into 120 square kilometres. From the clear Atlantic waters past sheer cliffs and stark rock formations. And through arid red desert dotted with cacti, rolling green fields and flax-covered hillsides, to a pinnacle of prehistoric cloud forest, So there is lot to interest nature lovers as well!
Notes:
The exact tour price will depend on the nature of the excursions and the number of people. (It costs a little less per person for 4 people than 2 people.). Typically we include touring on every day and all/most meals. But we can adjust this to have some evenings at leisure.
We use St Helena and Saint Helena inter-changeably as the island is officially called Saint Helena. But their own tourism board refers to St Helena. Go figure!
St Helena tour at a glance
Take the Airlink flight from Johannesburg to Saint Helena via Walvis Bay. (You can also take a flight from Cape Town to Walvis Bay to connect onto the flight.)
On arrival at Jamestown Airport at approx 1.15pm you will be met and transferred to your hotel. The rest of the day is at leisure for you to explore a little of Jamestown at your leisure.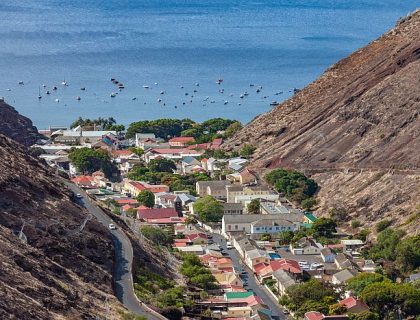 Jamestown is a tiny town of around 5,000 people, the descendants of the  16thC and later settlers and the slaves who worked for them. The active may like to start their stay in St Helena by climbing up Jacobs ladder's 699 steps to get a birds-eye overview of Jamestown nestled  seemingly in a rocky crevasse.
Dinner is at the Mantis St Helena.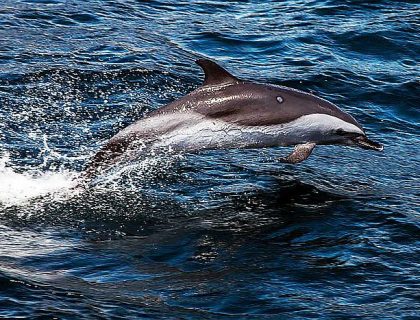 Enjoy a morning marine cruise around the leeward side of the island. Here you are in search of pods of 400 to 500 dolphins or the whale shark where you can again snorkel with them if encountered. This side of the island also has a number of nesting sites for marine bird colonies. At other times, you may be able to see pods of dolphins or Humpback whales (between June and October).
Then you enjoy a traditional Saints (British) Sunday Lunch at the hotel.
The afternoon is at leisure. You could do the short easy
hike to Mundens
overlooking Jamestown if you wish to be active. There are longer walks available if you prefer.
In the evening you could eat at the local or sample one of the local restaurants such as Anne's Restaurant or Rosie's Bar.
You can take a full day sight-seeing and historical tour of the whole island. The landscape of St Helena includes steep, multi-color ridges, bronze volcanic rock, golden beaches and lush vegetation. En route you will learn about the history of the island including the Boer prisoners of war, the Dutch East India company and the Salve legacy. You enjoy a picnic lunch at a scenic spot. You'll also explore the various sites associated with St Helena's most famous resident, Napoleon Bonaparte, who was exiled here by the British and who ended his days on the island.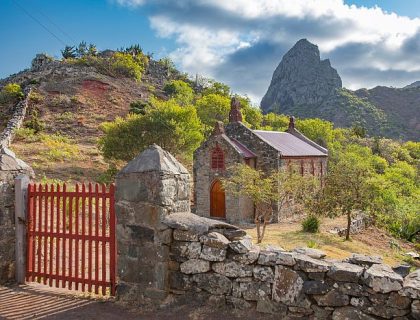 Return to your hotel for some time at leisure.
Alternatively – you can take a shorter half-day island tour by 4×4 in the morning. Then in the afternoon you enjoy a
historical walking tour of Jamestown
with one of the local legends, Basil George (2½ hours)
Evening braai –
You may like to enjoy a traditional braai with your guide where you can meet some local people and find out what it is like to live on such a remote island as St Helena.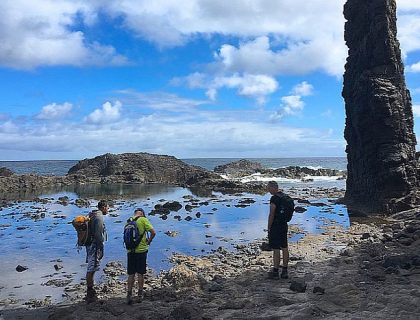 Today you enjoy a guided walk to Lot's Wife Ponds. This is a moderate to challenging coastal hike with natural swimming pools at the end of the walk (5 hours). A guide from the St Helena National Trust will accompany you. Enjoy a picnic lunch en route. The rest of the day is at leisure.
Alternatives to Walking
If you are not into walking/hiking, there are a variety of alternatives such as:
Enjoy

9 holes of golf

on the "world's most remote golf course"

Enjoy a morning of

learning some local crafts

such as lace-making or flax weaving

Visit

Longwood House

– Napoleon's residence, now a world-class museum. Longwood House was the residence of Napoleon, during his exile on St Helena from December 1815 until his death in May 1821. The house offers more than an hour of intriguing history.
Optional Evening Dinner: Making Fishcakes
Be taught to make local fishcakes or simply relax and watch. Rounded off with an early dinner eating the fruits of your labour!
This morning you first visit the Museum, just a few minutes from the hotel. The Jamestown museum of St Helena gives you the opportunity to explore more than 500 years of the islands history in the one place.
Then you enjoy a guided tour of the Plantation House, the Governors Residence with tea and cake in the library. And meet 190-year old Jonathan, the giant tortoise.
You enjoy a picnic lunch at Carson's looking down on the stunning scenery in Sandy Bay. St Helenian food reflects the many historical influences of the island including Portuguese, British, Southeast Asian, Malay, Chinese and African. However, over the generations Saint food has evolved into a number of dishes unique to the island.
In the afternoon you enjoy a tour of a coffee plantation to follow the process of roasting the 200 year old Arabica bean, one of the World's most sought after coffees. Next you visit the St Helena Distillery. Try & buy Tungi Spirit, Midnight Mist coffee liqueur, White Lion rum or some of the locally made wine or brandy.
Sundowners and dinner at Rosie's Restaurant and Bar.
Today you enjoy a guided walk to Diana's Peak. The peak is the highest point on St Helena at 823 metres above sea level and is home to exotic flora and fauna. Alternatively, you can hike to the Heart-shaped Waterfall. The Heart shaped Waterfall is at its most prolific during the winter months, but is a very outstanding landmark and offers a gentle hike along a well maintained path to the spectacular rock face. 
Alternatives to Walking: as on Day 4: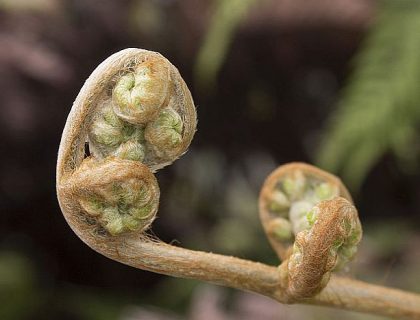 In the afternoon, you have a choice of optional activities, or you can simply relax. Choose between a
Conservation Tour
which includes the endemic Wirebird and tree-planting at the Millenium Forest. Or a Bird-watching Tour.
Dinner is a 5 course wine-pairing dinner at St Helena, or a more casual affair at Betrands Cottage. Meals: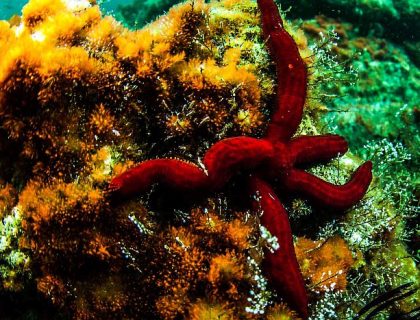 This morning you enjoy a shipwreck snorkel. Experience a dazzling array of marine life on the wreck of the Papanui in James Bay. All equipment is provided.
Lunch is back at the hotel or at The Inkwell.
Then in the afternoon you enjoy a Military History Tour of the island and includes the East India Company, Boer Prisoners and also the Salve Legacy. You head over to the Boer war cementery which is located near to the oldest cathedral in the Southern Hemisphere. Finally you visit High Knoll Fort. High Knoll is one of the island's key heritage sites,. It stands at an impressive 584 meters above sea level. This fortification was built in 1790 and not only offers a fascinating history and tour, but stunning 360 degree views of the Island.
You return to Jamestown via Ladder Hill. If you are not planning to walk up the steps on the final morning, then you can choose to walk down the 699 steps of Jacob's Ladder.
Friday night in Jamestown – late afternoon and evening
Jamestown on a Friday afternoon ensures that you see one of the islands busiest days. Everyone is preparing for the weekend, and you will get the chance to mingle and chat and learn a little about the history of the town which is the seat of the Government, is home to the oldest Anglican Church in the southern hemisphere and the hub of the islands social life. Walk around the town, stopping and meeting the locals over a beer.
Farewell dinner at the Hotel. Then you may like to sample a drink or two at either Donny's Bar or Mule Yard.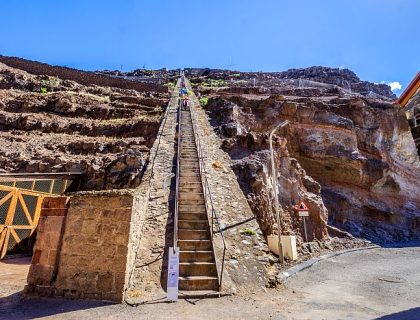 Why not climb Jacob's ladder in the cool of the morning, if you havent done it already. Voted the top wonder of St Helena – Jacobs Ladder was built in 1829 as an inclined plane to connect Jamestown to the Garrison at Ladder Hill. It stretches 900 feet high and is an intriguing 699 steps to reach the top. Its perfect for a final morning climb, to be rewarded with a panoramic view over Jamestown, followed by a well-deserved breakfast.
After breakfast you can spend some time exploring the Museum, shopping for some crafts or souvenirs, or enjoying St Helena coffee on the seafront.
The
Jamestown museum
gives you the opportunity to explore more than 500 years of the islands history in the one place. Their gift shop is a great place to pick up your souvenirs.
Transfer to the airport at 11.30-12 noon for the afternoon flight back to South Africa at 2.15pm.
Kate Bergh
Co-founder & Director
Hi I'm Kate, I'm here to help you plan your ideal holiday experience