Winelands & Countryside Tours:
Wine-making is a 300 year tradition in the Cape Winelands. Many of the world class wine estates welcome visitors and few people leave the Winelands without clutching at least a couple of bottles to savour later on.
Meander along one of the well-mapped wine routes visiting whichever estates take your fancy… These tours include tastings of high quality (and often award winning) red and whites wines. Or a cellar tour so that you can learn how the wine is made.
Our winelands tours aim to introduce you to the wine-making, scenery and history of the Cape Winelands. It is not just a wine-tasting tour and so would be interesting even if you are not particularly into your wine.
Depending on the tour, the order of the day varies. But you will enjoy wine tasting at 2-3 different wine estates, usually smaller boutique estates if possible… This tour is the perfect opportunity to experience the rich historical and architectural traditions of the region. You visit the picturesque village of Franschhoek. Set in a beautiful valley surrounded by mountains, and Stellenbosch, via the majestic Helshoogte Pass. It is easy to see why Simon Van Der Stel decided to build a village in such an idyllic spot. The Cape Dutch architecture along the oak-lined streets and the many alfresco cafes give Stellenbosch a charm that will not be quickly forgotten.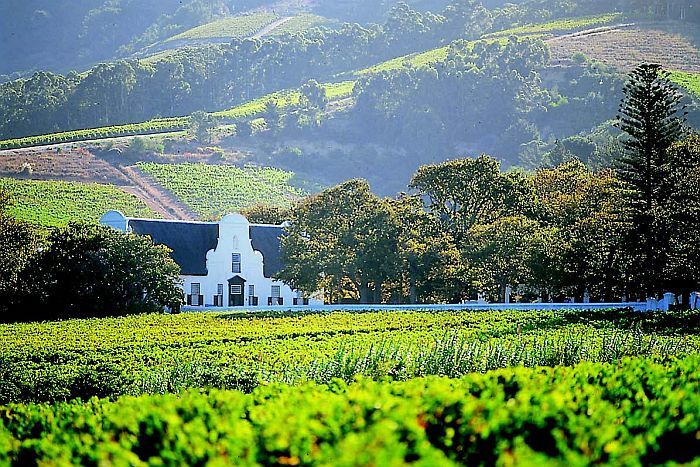 Scheduled or private?
We can arrange various different wine tours on a scheduled or private basis.
If you opt for a private tour, you have the freedom to choose specific wine estates as everyone has a different preference in wine. Or you can add optional excursions such as a walk or horse ride through the vineyards, visiting the Franschhoek Motor Museum or the Village museum or Rupert Museum in Stellenbosch.
Cape Winelands tours don't take place on Sundays as the wine estates are all closed.
The price given below is the per person for a scheduled full day tour. (Please note that the group for a scheduled tour is max 8 pax)
Private tours depend on the number of people. They may be considerably more if there are only 2-4 people but not much more if there are 4 or more people.
Contact us if you are interested in a private tour.