Twyfelfontein Rock Engravings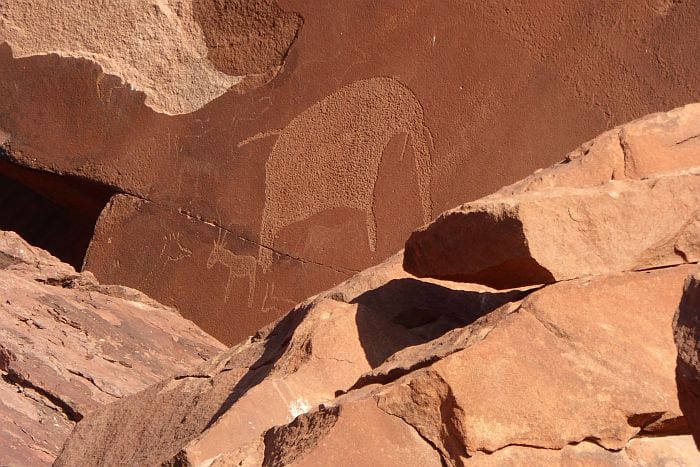 The Twyfelfontein rock engravings are the most significant rock-engraving site in Namibia. More than 2,500 engravings are found at 17 main sites, as well as several rock paintings. Its one of four top rock art sites in Southern Africa, the home of ancient mankind.
Especially interesting are large images of elephant, rhino, and a lion with spoor instead of paws, and human feet. There are two main routes. A shorter trail taking in some 5 sites & taking about ¾ hour to walk around. A longer trail which takes in 8 sites & will take about 1 hour to complete. After paying a small fee per person for a guide, you will be accompanied to the engravings. It is quite hidden amongst the rocks. We recommend that you wait for a guide, as the sites are not easily discovered without one.
Given the distances in Namibia, & the heat later in the year, we recommend that you stay for at least 1 night at a lodge close to Twyfelfontein. Such as Mountain Mowani Lodge, Camp Kipwe or Doro Nawas as then you can visit in the early morning.
Near to Twyfelfontein
Nearby Burnt Mountain, a brilliantly coloured mountain of maroon, black & charcoal, a rock was formed 120 million years ago when a large sheet of black magma forced its way into carbonaceous shale. Nearby is an outcrop of volcanic rock called the Organ Pipes, a mass of perpendicular slabs of basalt between 130 & 150 million years old.
Also in the nearby area (relatively speaking in Namibian terms!) is the Petrified Forest. A visit to the fossilized tree trunks is equally absorbing. The stone 'trees' lying on the ground are so well preserved they seem like logs. The Petrified Forest consists of at least 50 trees which are between 240 & 300 million years old.
Here you will also find one of the world's botanical curiosities, the strange-looking Welwitschia. Although it does not resemble a tree at all, the Welwitschia is nevertheless classified as one, & much of its stem is underground. Only 2 leathery leaves of up to 8m long & 1,5m wide are produced on the gnarled stem, but the leaves are shredded by searing winds & extreme temperatures into a tangled mass, creating the impression of a multitude of leaves.