Tiger Fishing in Botswana, Zimbabwe & Zambia
There are plenty of areas in Zambia and Zimbabwe , as well as Botswana, where you can try your luck at tiger fishing. This is an adrenalin rush of note!
The razor-toothed tiger fish is pound-for-pound one of the world's most powerful freshwater species. They are at their most active in the early summer from September to December and provide excellent sport. But you can fish for them at any time of year.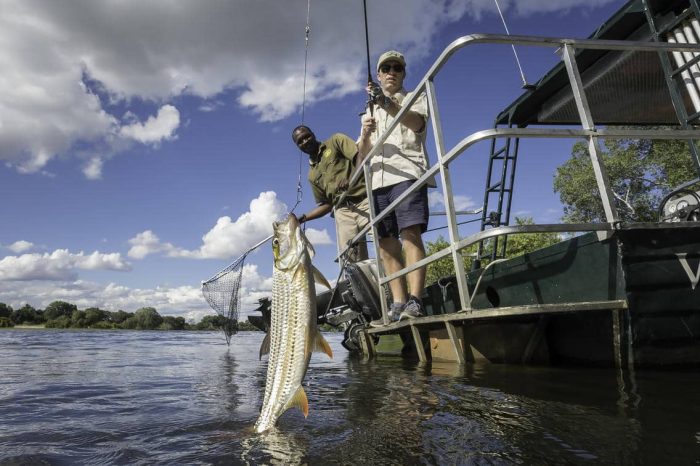 Probably the three best areas are the Lower Zambezi National Park in Zambia, the Mana Pools National Park on the Zimbabwe side, and Lake Kariba also in Zimbabwe.
Lake Kariba supports more than forty species of fish, most notably the famous tiger fish. But its is also know for its many hippos and crocodiles. The fertile soil on the bed of Lake Kariba provides plentiful nutrients for the lakes fish. The world record Tiger Fish was caught on a fly rod near Musango Safari Lodge on Lake Kariba.
So tiger-fishing on a catch-and-release basis is offered at many of the safari lodges and is usually included in the camp activities. Occasionally it is an extra cost for a full-day excursion.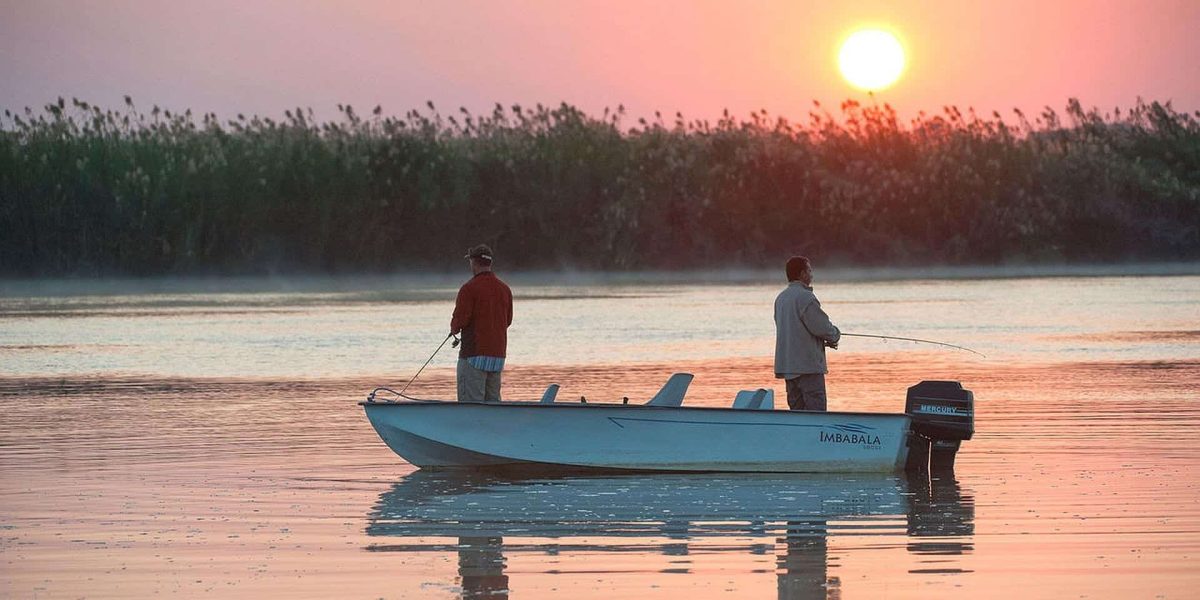 Victoria Falls
Fishing is also offered (either for the morning or a full day) on either side of the Victoria Falls ( in both Zimbabwe and Zambia). But recently the fishing has not been so good around Victoria Falls, as there are too many locals in competition. So it's a little 'fished out' I would recommend somewhere a little further away such as Imbalala or Ichingo River Lodge on the Namibian side of the Chobe River .
The price mentioned above is for a 3 hours fishing excursion at Victoria Falls on the Zimbabwe side. (This includes the park fee which is currently US$10.00. Please contact if you would like to do some fishing at Victoria Falls.
Please Note: We don't book this fishing trips on a standalone basis, only with accommodation such as Victoria Falls hotels