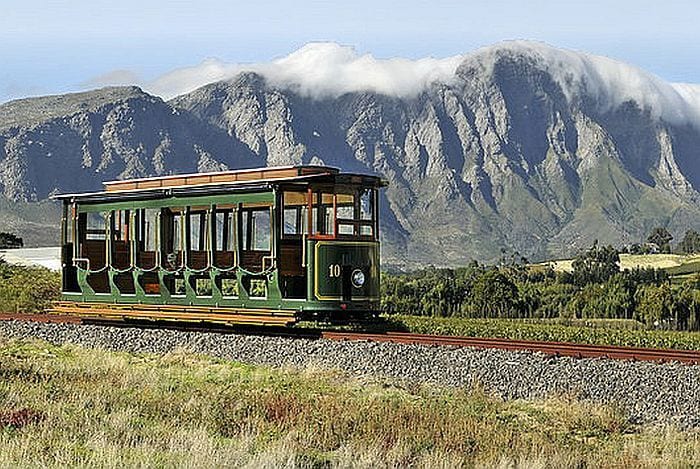 The Franschhoek Wine Tram hop-on hop-off tour
The Franschhoek Wine Tram tour is one of the best ways to discover the Franschhoek Valley in the Cape Winelands. Picturesque vineyards, breath-taking scenery, warm hospitality, excellent cuisine, fine wines and a 300 year history.
The restored tram visits various wine estates departing from Franshhoek. You choose how long you want to stay at each estate. Just ensure that you catch the final tram back to the village! You don't have to worry about driving after wine-tasting as the tram stops in the heart of the village. So its easy to walk back to your hotel or lodge.
There are two separate Franschhoek wine tram routes to choose from.
The 'Blue Line' visits La Bri, Holden Manz, Dieu Donne, Chamonix, Rickety Bridge and Grande Provence wine estates.
The 'Red Line' visits Mont Rochelle, La Couronne, Moreson, Leopard's Leap, Rickety Bridge and Grande Provence wine estates. The tram service begins at 10 am with a tram departing every 15 minutes until 12.45 pm
Once on board you enjoy a unique way to see the Franschhoek Valley as you pass through rolling vineyards in an open-side tram. There's a narration which focuses on the history of Franschhoek and wine cultivation in the valley. You can stop off at each stop and enjoy what ever activities are on offer. Whether it is complimentary wine tastings, a cellar tour, lunch at some great restaurants or simply a stroll through the vineyards. There are various other activities on offer. Such as chocolate and wine pairing, fruit and cheese platters, cooking classes (pre-booking essential) and picnics (pre-booking). We also recommend that you book lunch ahead of time in peak season as the restaurants on these wine estates are extremely popular.
Price mentioned is per person.
Please note that we don't book this tour on a standalone basis. But you can book it online on the supplier's website if you follow this link: http://winetram.co.za/