Excursion to Lokobe Reserve
LOCATED IN
Nosy Be & Islands
Excursion to Lokobe Reserve
Another great excursion from Nosy Be is a visit to the Lokobe Reserve in the south-eastern part of the island.
Lokobe Reserve is known for its brown lemurs as well as the smallest chameleon in the world & the miniature frog which manages to grow to all of 1cm in length! Part of the attraction of the Lokobe excursion is getting there. First you transfer by road to Ambatozavavy village. Here you take a pirogue (dugout canoe) for a boat cruise over to Lokobe reserve. This can be quite exciting if the water is choppy (as it was when we head to Lokobe). But it is an ancient form of transport for these local people and so you are in good hands.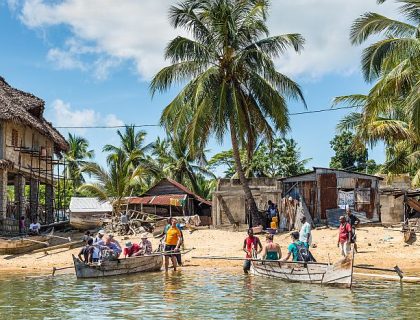 When you land at the reserve, you spend a couple of hours walking in the tropical rain-forest with your guide . He'll point out the lemurs, chameleons, geckos and even snakes. After paddling back, you enjoy a delicious home-cooked meal at the village before heading back to your hotel.
Note: Please note that we don't arrange Nosy be day excrusions as stand-alone activities. Only as part of a tailor-made Madagascar holiday booked with Cedarberg Africa