Canoeing on the Upper Zambezi at Victoria Falls
LOCATED IN
Victoria Falls & Livingstone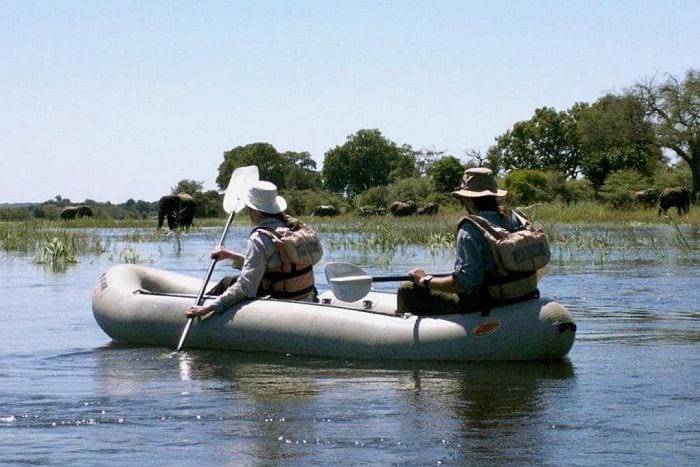 Probably the best way to appreciate the beauty, peace and wildlife of the Zambezi River above the Victoria Falls is to paddle slowly downstream in a canoe with some of the best wildlife guides in Africa. You paddle your own canoe, following the qualified Canoe Guide as he leads the way. You canoe downstream running a couple of grade one and two rapids, exploring channels, bird and game viewing.
Watch the Pied Kingfisher hover and dive. Listen to the haunting call of the fish eagle and the grunts of the hippo. See elephant, buffalo and other animals come down to drink and explore the islands and waterways along the route.
Canoeing  on the Upper Zambezi from the Zambian side
Choose between a full morning canoe safari (5 ½ hours from 8am to 1.30pm with drinks and snacks en route). Or a full day safari which lasts 9 hours and includes a cold lunch with wine, soft drinks and beer (from 8am to approx 5pm).
Livingstone Drift rafting tour
If you are not sure about canoeing on the upper Zambezi River, a similar ambience can be gained from the popular Livingstone Drift tour every morning. You are collected and taken to the launch site in the Mosi-oa-Tunya National Park, where the trip begins with a safety briefing before boarding the inflatable rafts. Each raft has its own guide who does the paddling so that you have time to take in all of the sights and sounds.
Any rapids encountered are small and at their peak are only classed as grade one, which is the easiest grade. The rafts slowly meander their way down to the take out point with their informative guides pointing out animals, bird life and flora & fauna of interest. Animals, which may be viewed, include hippos, crocodiles, elephants, giraffe, rhino, and various antelope, as well plenty of birds. The drift ends at about 10.30am when you head back to your hotel in open game drive vehicles.
The price above is based on the half day canoeing trip. There are full day options.
On the Zimbabwe side of Victoria Falls, many of the safari camps offer canoeing as one of their included activities.