Unguja Lodge
CEDARBERG RATING
Comfortable
Overview
Unguja Lodge offers a stylish Zanzibari charm using organic materials & local fabrics
Spacious villas are right on the beach
Amazing diving & dolphin excursions at nearby Kimikazi
The hallmarks of Unguja Lodge are a tranquil, peaceful setting near the ocean; genuine warm hospitality and unique Zanzibar-inspired design. Unguja Resort is located near the village of Kizimkazi, known for its bottle-nosed dolphins, on the southern tip of Zanzibar.
Accommodation
There are a total of twelve spacious double storey villas at Unguja Lodge including two Family Houses. All villas are ensuite and equipped with a ceiling fan. The seven Seaview Villas and family rooms have a private stone terrace with sea views whilst the three Baobab Villas are orientated towards the garden. But there's a sea view from the first floor and they also have the advantage of air-conditioning and private plunge pools.
The tropical garden is characterised by old mango and baobab trees in which the rare colobus monkeys can often be found. It's a pleasant walk down to the beach and a there's a swimming pool in the middle of the garden, great for chilling out and relaxing or for the first stages of dive training.
Activities at Unguja Lodge
Activities at Unguja Resort include snorkelling, dolphin encounters, diving and cultural visits to the nearby village of Kizimkazi. Diving and snorkelling tuition is provided by a PADI 5-star dive centre and caters for novices and the more experienced alike. One snorkeling option is to take a traditional dhow to the protected Menai Bay Conservation area, followed by a barbeque lunch on the beach of a deserted island not far from the Kizimkazi. Kizimkazi is well known for the thriving dolphin population and a dhow boat can take you out for a fascinating encounter.
Rooms
Baobab Villa
The Baobab Villas are built a few meters further from the shore beneath a huge baobab tree. They are oriented to the garden, which make them ideal if you want even more seclusion and privacy
Plunge pool
AC and ceiling fan in the bedroom
Spacious bedroom with double bed (6x7 ft, 185x215 cm)
Mosquito nets over the bed
Private safe
Open plan sitting room (baraza-style)
Open plan spacious shower room
Separate toilet
Loft with extra DBL bed
Encircled by a lush garden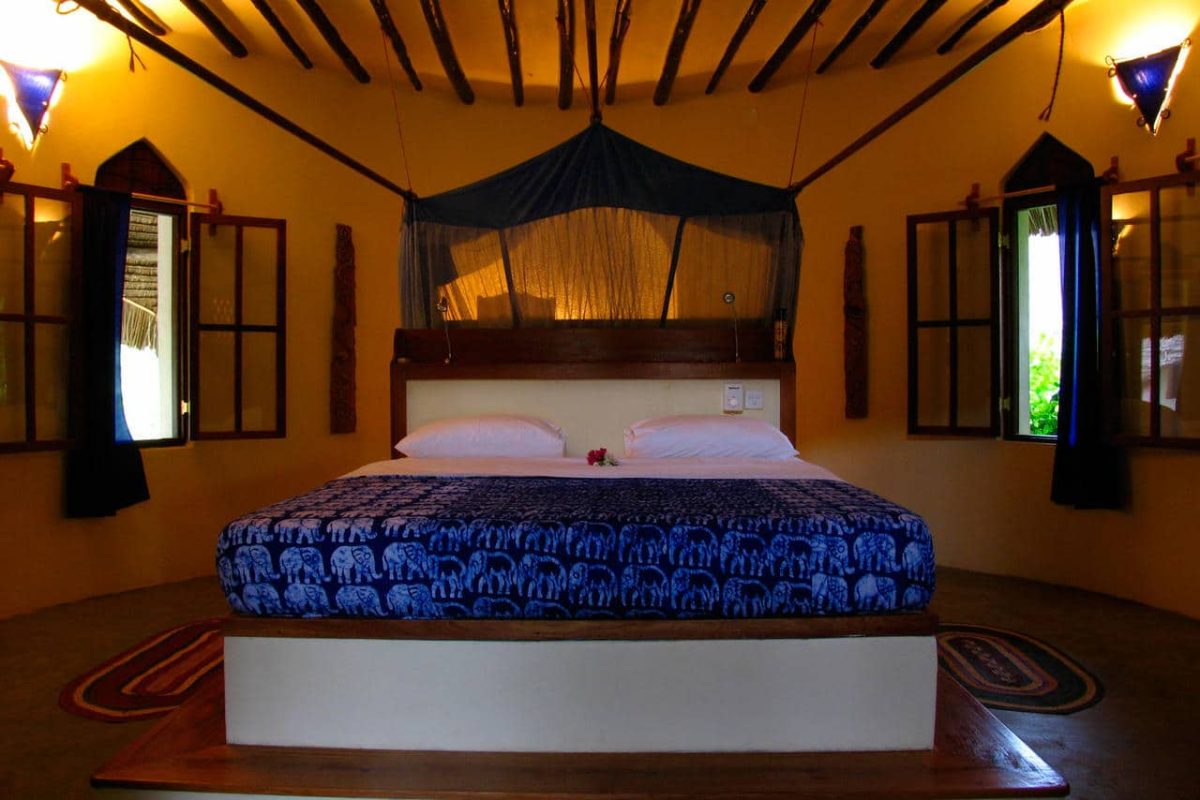 Sea View Villa
The Sea View villas and the Family Houses have a direct sea view, and each has a private terrace overlooking the Menai Bay
Spacious bedroom with double bed (6x7 ft, 185x215 cm)
Mosquito nets over the bed
Ceiling fan for cooling
Private safe
Open plan sitting room (baraza-style)
Open plan spacious shower room
Separate toilet
Loft with extra DBL bed
Private terrace with a sea view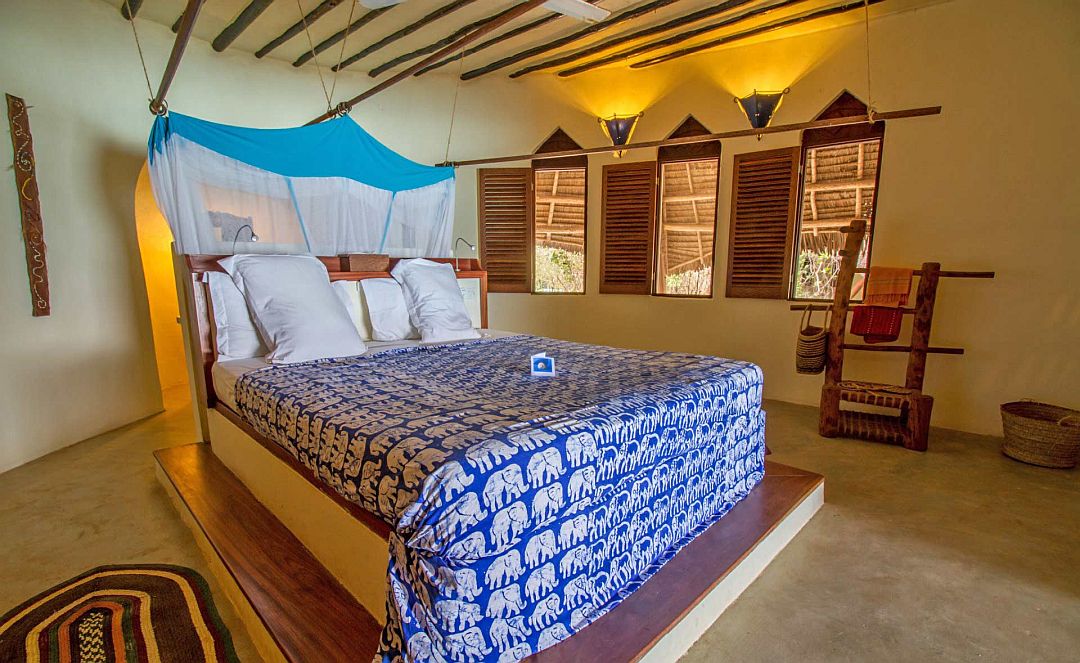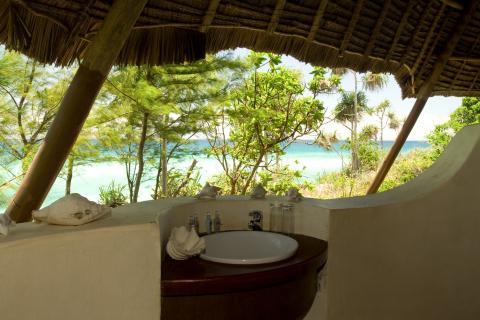 Family House
Downstairs:
Bedroom with DBL bed (6x7 ft, 185x215 cm)
Mosquito net
Ceiling fan
AC only in house nr 11
Bathroom/toilet en suite
Open plan bathroom/toilet
Open plan sitting room
Sitting room inside
Sea view terrace
Upstairs two smaller bedrooms, in each room there is:
2 Single beds that can be put together to make a double bed
Mosquito nets
Fan
AC only in house nr 11
Bathroom/toilet en suite
Shared balcony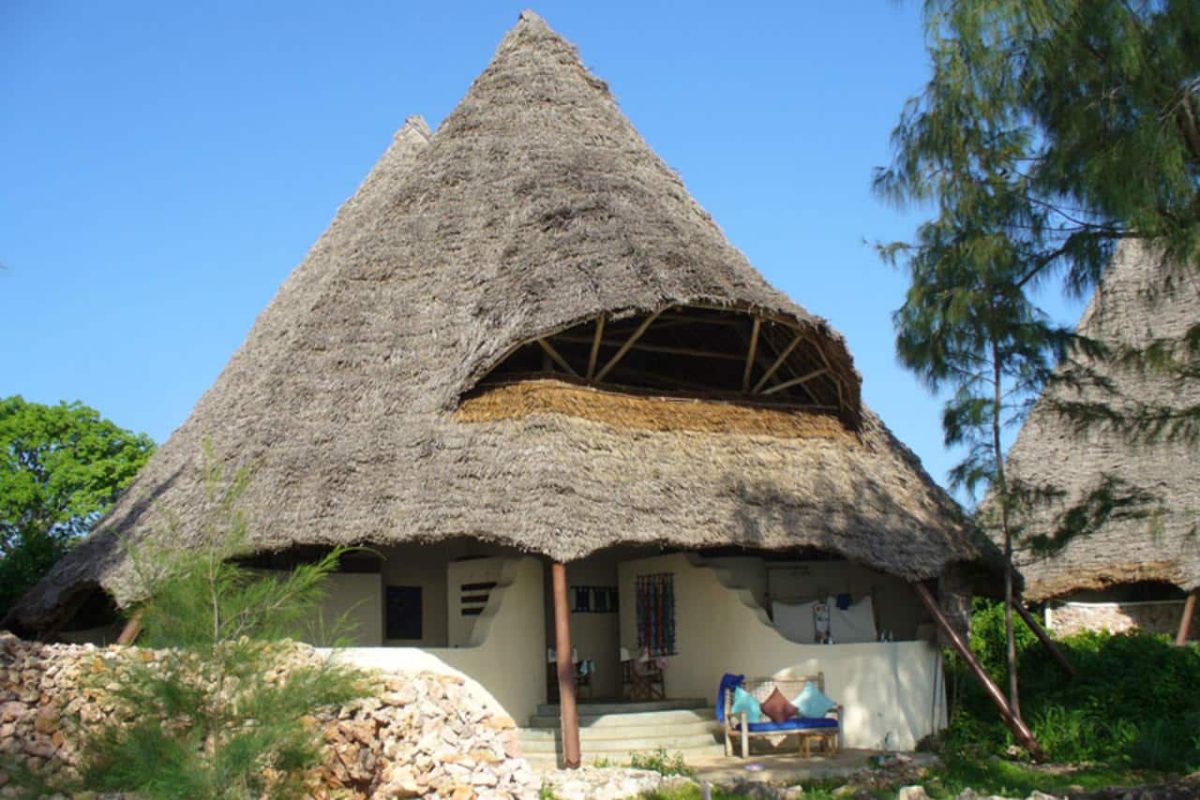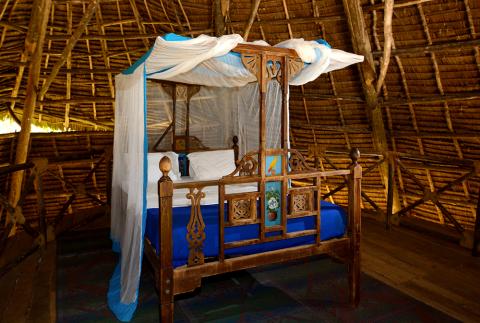 Family Suitability
Family-friendly all ages
Malaria Rating
Malarial area year-round