Overview
Baines' Camp is a romantic safari camp, ideal for honeymooners
Beds can be rolled out onto the raised deck to sleep under the stars
Each room is themed around a Thomas Baines painting
Attractive rimflow pool & pool deck for cooling off and relaxing
Baines' Camp, named after the famed explorer and painter Thomas Baines, lies on the southern edge of the Okavango Delta overlooking the perennial lagoon off the Boro River. Well shaded by huge Sausage, Jackal berry and Leadwood trees with excellent wildlife and panoramic views, Baines' Camp is a small intimate camp of six luxurious and secluded suites on elevated platforms and linked by timber walkways.
In the main areas, the large open deck on the water's edge has a suspended fireplace and a rimflow swimming pool, great for cooling off, with views over the Boro lagoon so that you can enjoy game-viewing even from the pool. Inside there's a relaxing lounge and intimate dining area as well as a fully stocked wine cellar. Baines' camp is on its own game-rich private concession adjacent to the Moremi Game Reserve. See prowling lions looking for prey at the edge of the lagoon or watch some of the many elephants that live in the area.
Activities at Baines' Camp include day and night game drives in open land cruisers; walking safaris with skilled guides, mokoros for an extended season (water levels permitting) or boat cruises.
Accommodation at Baines' Camp
The décor of each room at Baines Camp is luxurious and richly textured. Thomas Baines was a well-known explorer and painter and each room takes a different painting as its theme. The accommodation include a spacious full bathroom, minibar, safe, ceiling fan, four-poster bed draped with soft mosquito nets and private viewing decks. Your four-poster bed can be wheeled out on your private deck so that you can sleep out under the star lit skies if you wish, overlooking the shimmering waters of the Boro River where hippo can often be spotted.
An innovative, ecologically friendly concept has been developed for the design and construction of the camp's walls, using recycled tin cans sealed in wire mesh and hessian panels and then finished with an elephant dung plaster mix. The cans were collected by means of an incentive programme given to the local schools and communities in and around Maun, which resulted in the collection of 140,000 used cans. The benefits of the incentive programme were not only financial but also helped in a clean-up process of the town. The unique building construction and the thatched roof provides both acoustic privacy and thermal regulation.
Sanctuary Baines' Camp gallery
Sanctuary Baines' Camp on the map
Rooms
Suite
There are six suites set on elevated platforms with wooden decks. The suites feature a luxury bedroom, en-suite facilities and private viewing deck. The four-poster beds are fully mobile and can easily be wheeled out onto the private wooden deck if guests want to enjoy a night under the stars,overlooking the shining waters of the Boro River. Each room is equipped with a hairdryer, ceiling fan, in-room safe and minibar.
Wi-Fi available in the rooms.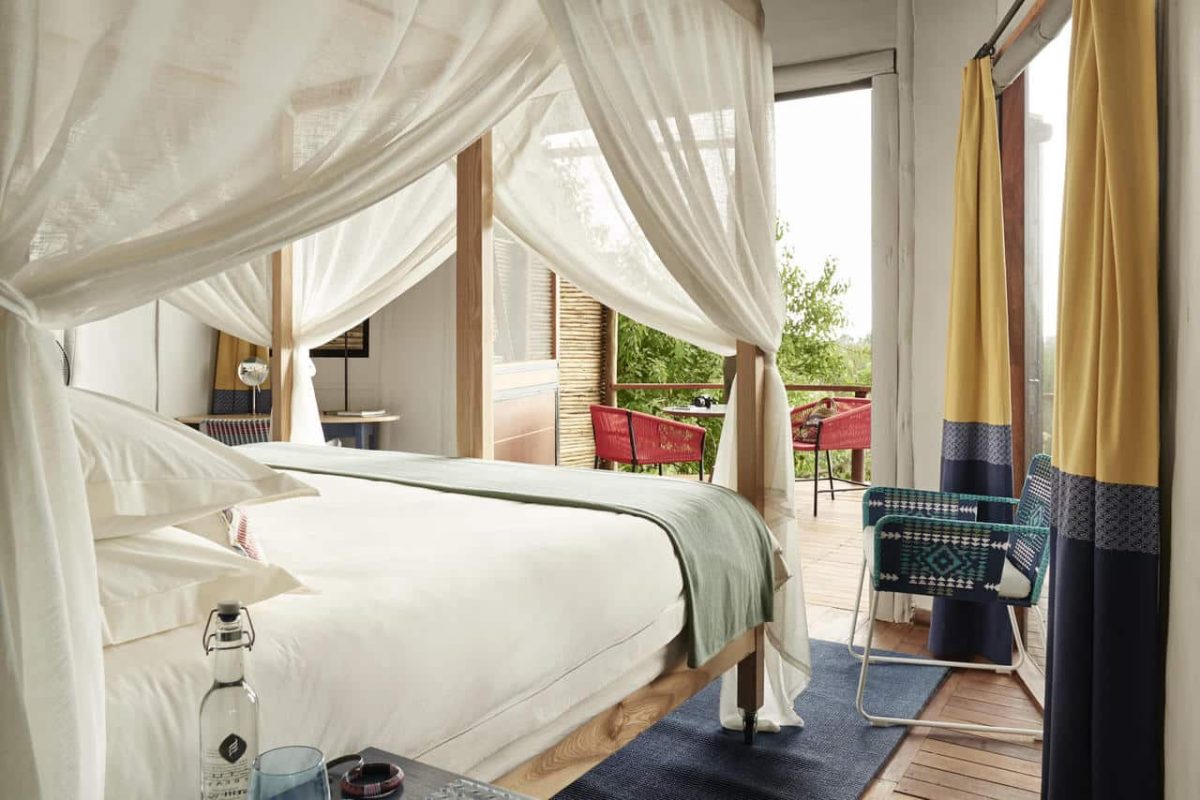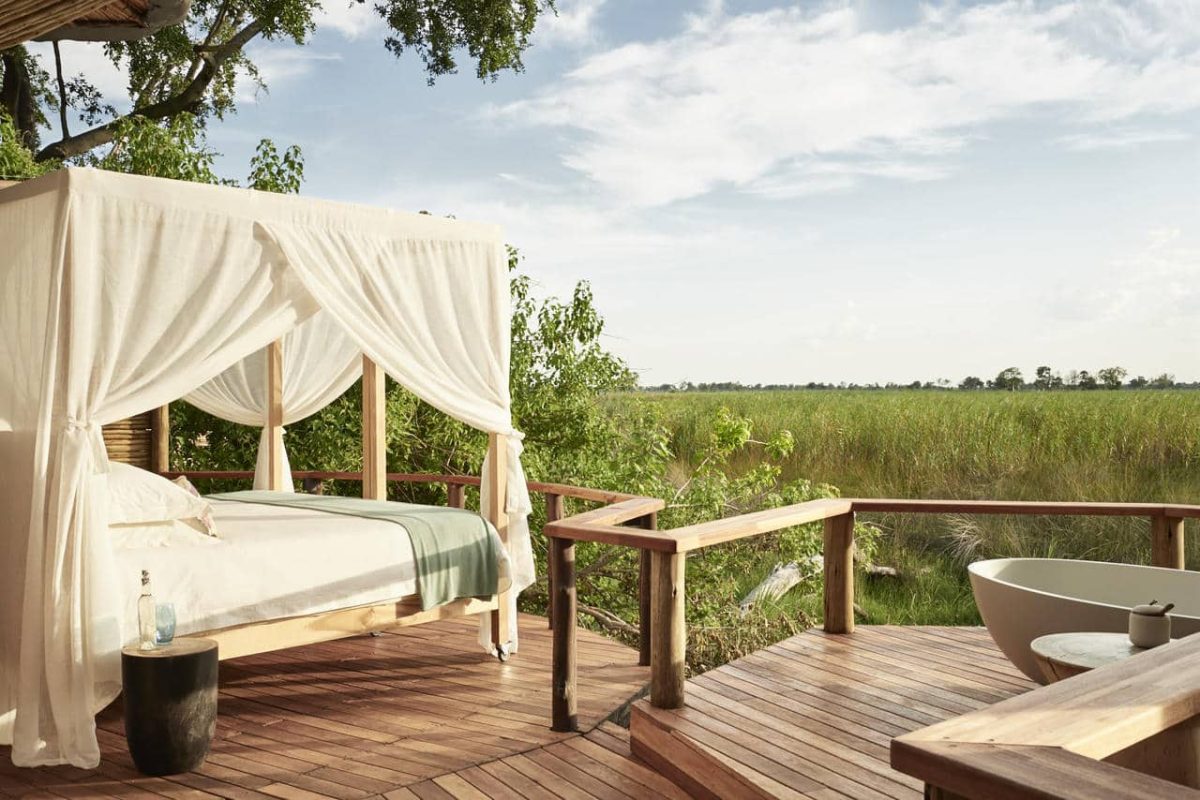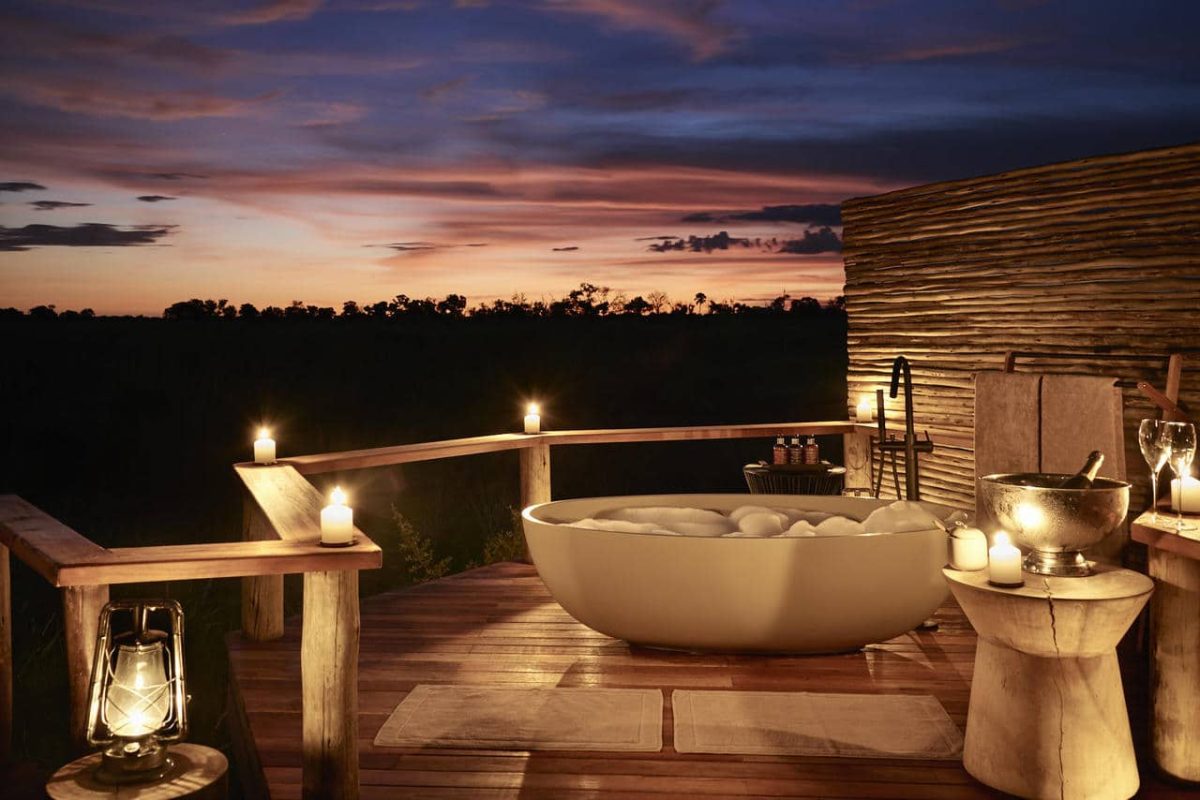 Special offers
Sanctuary Long Stay Offer
Progressively lower rates for  4-6 nights, and 7+ nights when staying at one or more of the Sanctuary Camps across all countries.
Progressively lower rates for 4-6 nights and then 7+ nights when staying at one or more of the Sanctuary Camps across all countries. This includes Chiefs Camp, Baines Camp, Stanley's Tented Camp, Chobe Chilwero (all in Botswana), Sussi & Chuma at Victoria Falls, and Makanyane Camp in Madikwe, South Africa.