Overview
 Relaxed expert guiding
 Desert elephant sightings in Damaraland
Spectacular location in a beautiful reserve
 Convivial dinners
 Thermal hot springs
Huab Lodge is a little gem on the banks of the seasonal Huab River in dramatic mountain scenery on the edge of Damaraland. Unwind, relax, discover and absorb the soul of the African bush. There is something special about Huab Lodge - the spectacular setting, the relaxed atmosphere, expert guiding and the delightful hot springs. We recommend at least 2 or 3 nights here if you have the time.
Activities at Huab Lodge
The award winning Huab Lodge lies in a private nature reserve which was originally established as a refuge for the desert-adapted wildlife of Namibia. Unhurried guiding takes place either by 4x4 vehicle or on foot. The game is all free-roaming which means that you never know what you might see - gemsbok, kudu, mountain zebra and occasionally even desert elephant. The element of uncertainty is part of the charm at Huab Lodge. For birders some 200 bird species can be seen here including nine of Namibia 's desert bird endemics.
Other activities at Huab Lodge include visiting ancient rock paintings, enjoying Shiatsu massages, relaxing in the delightful natural thermal springs (a personal favourite of mine!) or stargazing under the African skies. A resident arts and crafts artist produces jewellery, leatherwork and paintings on commission.
The eight spacious stone and thatch chalets at Huab Lodge are comfortable and well-equipped with two double beds, ceiling fan, fresh cold water, tea/coffee facilities, bathroom with double vanity and a shower with a view as well as a large viewing deck overlooking the valley. The main lodge at Huab Lodge is large and relaxed in feel, open to the Namibia elements, filled with comfortable chairs and interesting books. Good food and wine are served at the communal table for a convivial and relaxed evening with your hosts. Here guests can make friends and exchange opinions and learn more about the country. Huab Lodge is run on eco-friendly solar power yet also offers a high speed internet connection.
Rooms
Bungalow
The spacious 45qm bungalows have large private patios and are tastefully furnished. They include a separate en-suite toilet, two hand-wash basins, even the shower has a view. The airy room got two double beds.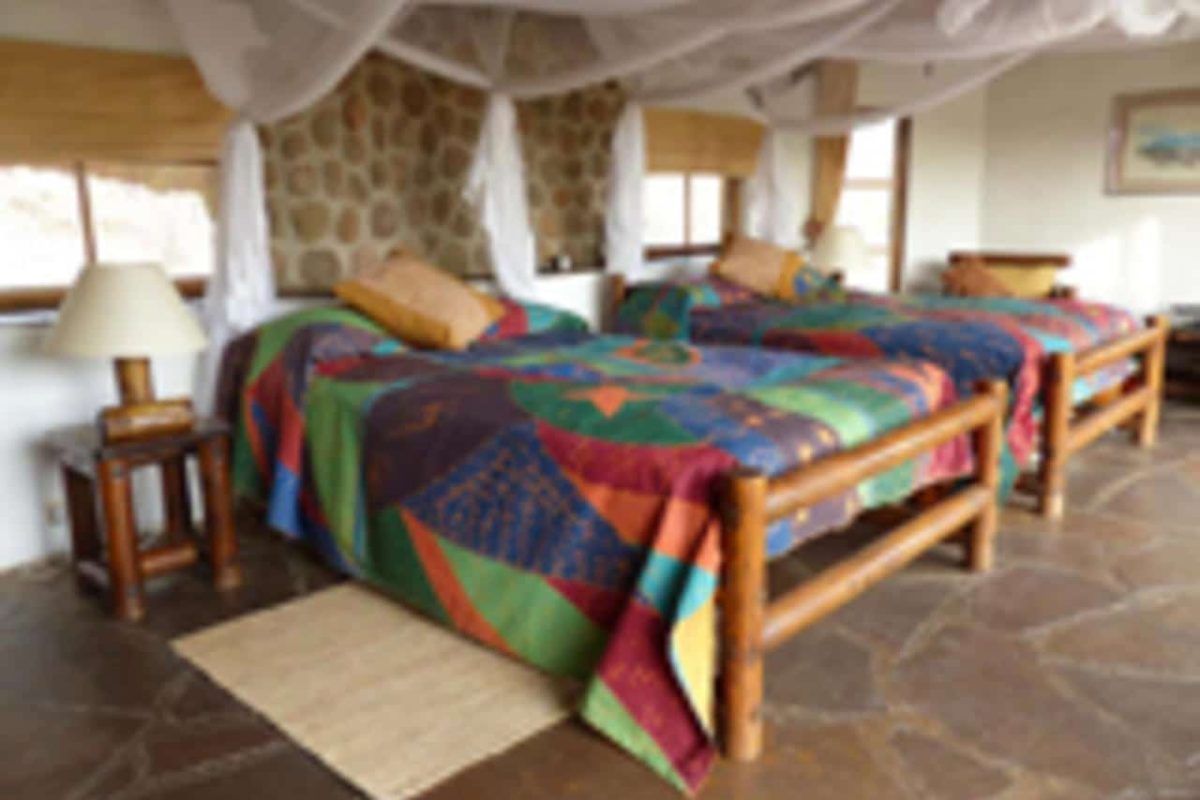 Very relaxing
"Great family atmosphere, very relaxing, hot spring was awesome. Jan and Susie weren't there but Monica and Johan treated us like family. "
Family Suitability
Accepts older children
Malaria Rating
Low risk and/or seasonal malaria
Good For
Birding, Flora, Hiking, Leisure, Nature, Relaxation, Wildlife, History & Culture, Star Gazing, Adventure
See other options in this area