It goes without saying that in these strange and uncertain times, the human race has come to somewhat of a stand still. We've hit the pause button, and there aren't many people who have pressed play again! But nature certainly hasn't obliged, and rangers from across Africa have had some of the best wildlife sightings to date during this time.
Animals have not stopped giving birth, the sun has still risen and set every day, the predators have still been on the hunt, and in some areas the heavens have opened and brought new life to the landscape.
In case, like me, this time of isolation has caused your FOMO levels to rise to an all-time high – I thought I'd keep you in the loop about some amazing videos and images that have come our way from various camps and lodges.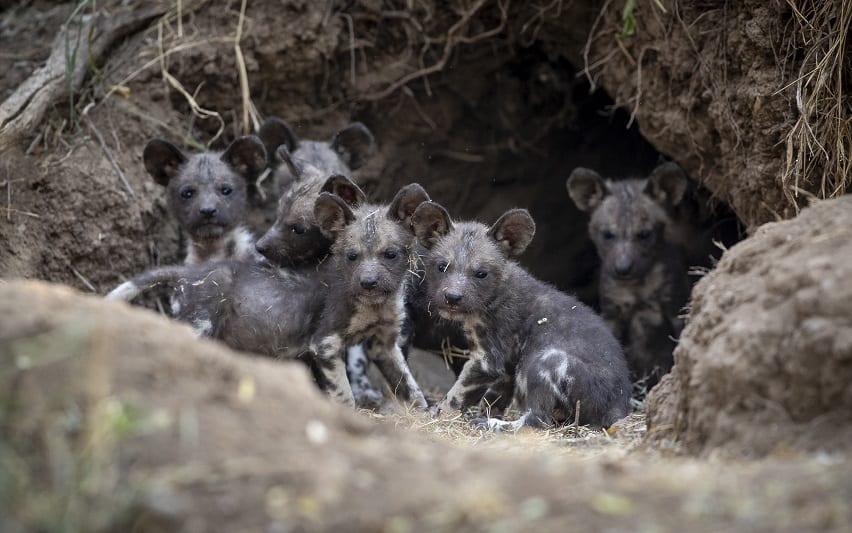 New life at Londolozi
The guides and staff at Londolozi have had their tissues out (happy tears!) and their hearts in their throats during the past few months. The newborns have taken centre stage! Two of the female leopard's – the Nkoveni and Piccadilly females – have had cubs. The rangers took great care in tracking down both moms and cubs, with some seriously satisfying results (and some amazing photos by guide James Tyrrell)…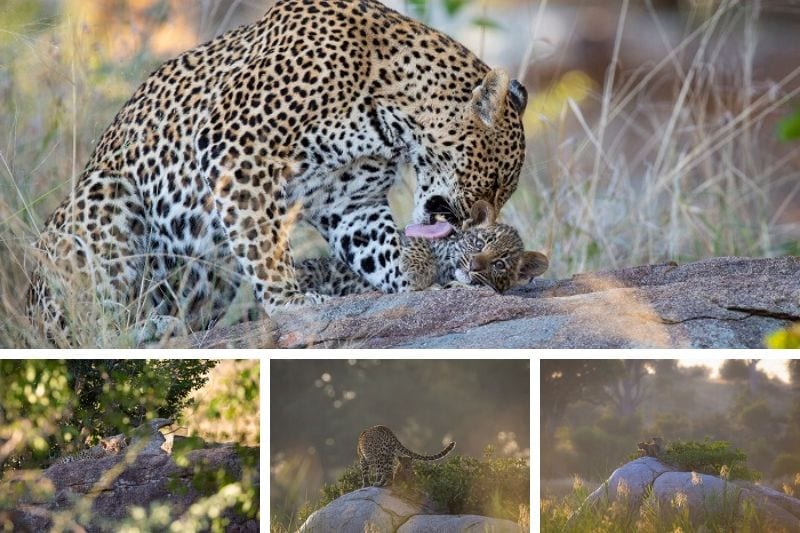 But the unforgettable wildlife sightings didn't stop there! Londolozi guides discovered an African Wild Dog den, where they watched a pack of wild dogs raise 10 tiny pups! It hasn't been without some dramatic moments however. Two rangers followed the tracks of the Ntsevu lion pride directly to the entrance of the wild dog den… they didn't know if the pups were dead or alive to two whole days! Take a look at this incredible video to see what happened.
[arve url="https://www.youtube.com/embed/XJvb-8rIXfY" align="center" title="Londolozi Wild Dog Pups Survive" /]
Wildlife sightings at Singita
The animals in the Sabi Sands Game Reserve have also decided to take advantage of a new 'chilling' surface. When there are no private charters flying in and out, why not? These pictures were taken by Ross Couper at Singita's Sabi Sand airstrip.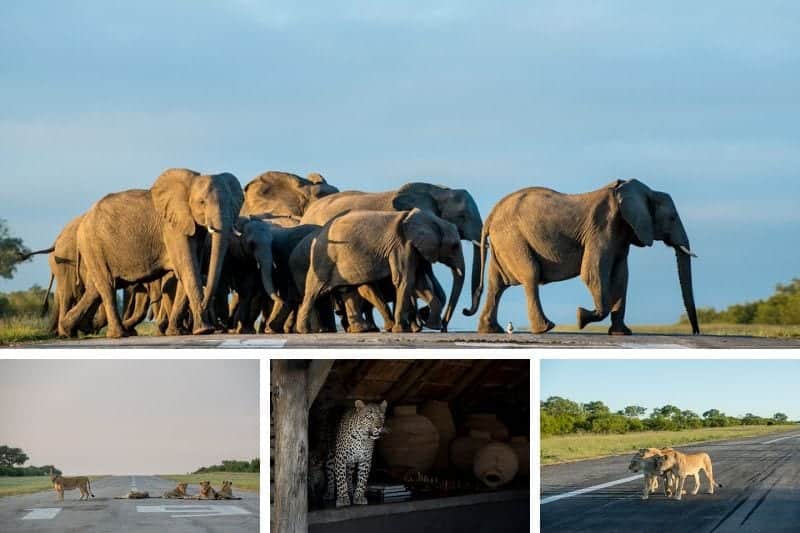 Two hidden GoPro cameras were also placed on a two-track road to capture the wildlife's natural movements throughout the day. This amazing footage was captured on an overcast, drizzly day. Watch which animals (big and small!) emerge… wildlife sightings at their best!
[arve url="https://player.vimeo.com/video/413098371″ align="center" title="Singita Sabi Sands Hidden Camera" /]
A change of landscape
Although Desert & Delta camps have had a lot of wildlife sightings, they've also welcomed some much-needed rain. Cue happy reports from Camp Moremi! "The flood waters have arrived! The dry pools and waterholes are filling up, and Jessie's Pool is returning to the water paradise we know. A big hippo pod has moved into the water and the elephants are taking full advantage of extended mud baths. The resident leopard Rra Nko has also taken a liking to this spot and often poses happily for the camera."
The flip side
There is a flip side to this whole situation of course. Although this 'quiet time' has undoubtedly given nature a nice break, it unfortunately leaves a lot of the most endangered wildlife at risk. There are countless organisations spread across Africa that work tirelessly to keep poachers at bay, and our wildlife protected. But this requires an enormous amount of resources.
I can't focus on all NPO's doing this kind of work, so I'll just give you an example of one for now. The Grumeti Fund, which carries out wildlife conservation and community development work in the western corridor of the Serengeti, has (and is) doing significant work in Tanzania. 15 years ago, the plains were nearly barren as uncontrolled hunting and rampant poaching had decimated local wildlife populations, in turn plunging the surrounding communities into poverty.
Fast forward to 2020, and the game reserves are teeming with wildlife once more. The fund employs 165 dedicated staff to protect, manage and monitor Grumeti's concessions. Not only do these staff need to be supported financially, but donations are needed for so much more. Have a look at this thought-provoking video of the critical work being carried out by Singita and its non-profit conservation partner, the Grumeti Fund.
[arve url="https://player.vimeo.com/video/220425408″ align="center" title="The Wildlife Protector" /]
The good news is that travel – or no travel – anyone can donate, from anywhere in the world. Let's continue to support the incredible work that is being done in order to make your safari to Africa an unforgettable one!
This article is written by Cedarberg Africa
Cedarberg Africa is a specialist tour operator and safari designer for Southern and East Africa. We offer 16 different countries in Africa. And we are a family-run company with 25 years of experience. Given our volume of business, we make our money through specially negotiated rates with the safari camps. So you will get both the benefit of 1st hand safari experience…At a competitive price
Contact Us to start planning your safari to Africa…