Overview
Slack-packing trails are South Africa's version of backpacking, made easy. These walking trails - informally described as hiking without hassle - are typically from 2 days to 7 days in length. Being short, slack-packing trails are easy to slot into a longer South African sight-seeing trip.
Many of us have enjoyed some multi-day walking trails when we were younger. When we were still happy to hike all day carrying our sleeping bag and all our food needs in a 15-20 kg pack on our back. But now many of us want a greater degree of comfort! We want a bed for the night. We want a home-cooked meal with wine. And most of all, we don't want to have to carry all our gear!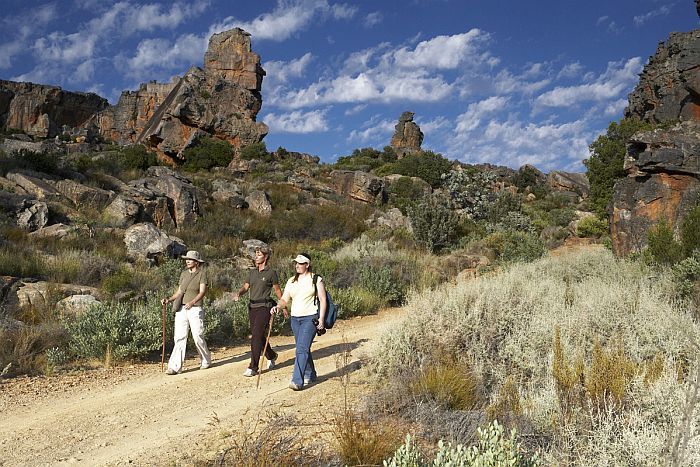 This is where slack-packing comes in...
A slack-packing trail is a multi-day walking trail where all you have to do is carry a day pack with whatever you may need for the day... simple! Sometimes it is only offered for private groups of 4 to 6 people or more. Other times a couple can join a set departure.
However this is where the similarities between the various slack-packing trails in South Africa end. They all differ in terms of level of accommodation, difficulty, and guiding.
Suggested Slack-packing Trails
We highlight a few here in detail. Two are on the Garden Route (The Oystercatcher Trail and the Dolphin Trail) and two are in the Cederberg mountains. Guiding by local guides, learning about the landscape and history, swimming in refreshing rock pools are all part of the magic.
Klein Krakadouw Trail (2 or 3 nights) - This is one of 5 trails of the Cederberg Heritage Route. See Klein Krakadouw for a brief overview of the other trails...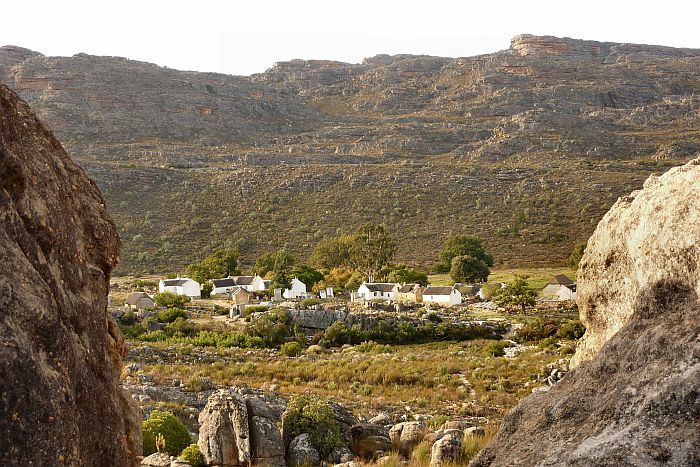 Wild Coast Meander - This is a 5 night coastal trail in the Eastern Cape which is tailor-made for individual parties on request. Shorter 3 night trails are also available. The walking is pretty easy and your bags are portered on foot.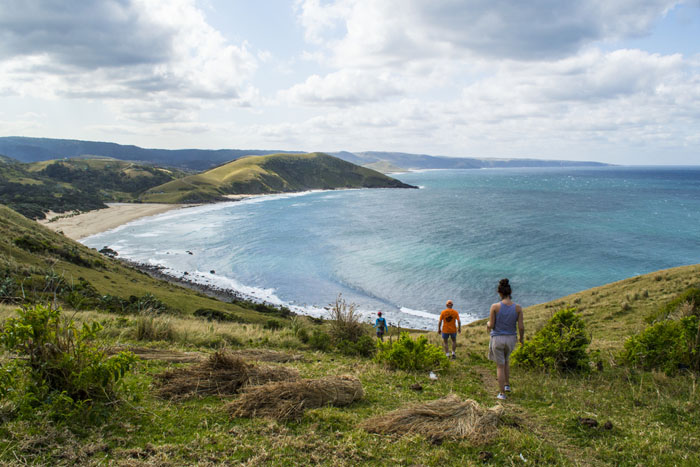 Green Mountain Trail - This is a popular trail in the Grabouw area of the Overberg. It's a 3 night trail that runs through the Green Mountain Eco Route which is the world's first biodiversity wine route.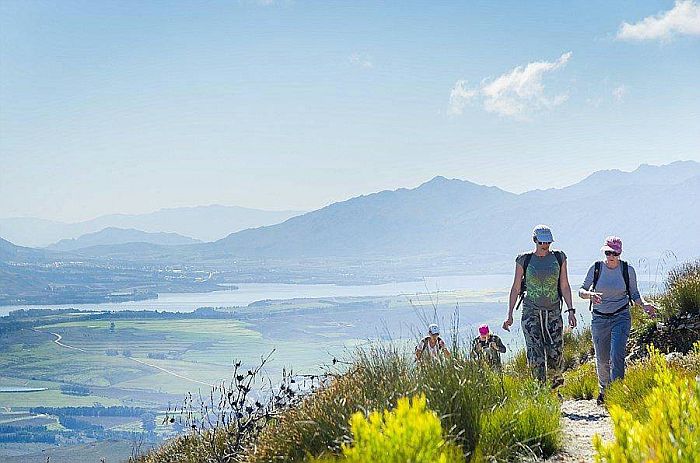 The Donkey Trail - is another popular 3 night trail in the Little Karoo down into the remote but very scenic Gamkaskloof ('Die Hel'). You are accompanied by trained local guides from the community. The only disadvantage is that the minimum numbers are six but you may be able to join an existing party.
Please Note: We book a number of other trails as well. So chat to us. We usually book slack-packing trails as part of a larger itinerary. If you just want to book a slack-packing trail, then we may need to add on a small admin fee to cover costs...
Highlights
You don't have to carry your own gear! It's taken to your next overnight stay by car, by porters or even sometimes by donkey cart.
You stay in comfortable accommodation with real beds and linen. It may be a guesthouse or a B&B. Or sometimes more modest accommodation depending on the actual trail.
And you get all your meals cooked for you.
So all you have to do is carry your day-pack!
Cedarberg was very thorough
"Cedarberg was very thorough , helpful and easy to deal with. Very comprehensive information pack. "
Mrs Pamela Bailey
Outstanding holiday
"The arrangements worked well. Many thanks for all the hard work. "
Mr Bund, UK
Cannot recommend enough
"I cannot recommend Cedarberg Africa enough, and more specifically, Mari Jacobs. I knew nothing about Africa and I thought it would be a wonderful place to go for our 2-week honeymoon. A co-worker had done a similar trip and passed along Mari's name to me. She really is excellent at what she does and, most importantly at the time, she makes everything as stress-free as possible. "
Mrs Denise Rehrig, USA
Hi I'm Mari, I'm here to help you plan your ideal holiday experience
A quite outstanding holiday
"We have just returned from a quite outstanding holiday. Milandi listened to what we wanted and organised it perfectly. The standard of the whole trip was even better than we expected and the itinerary was interesting, enjoyable, relaxing and fun in exactly the right proportions. "
Mr Allan Cole
It was a fabulous holiday
"I have booked through Cedarberg before and this is why I came back, as I was highly satisfied. This time it was a bit more complicated as Peter had less experience with Uganda himself and he had to communicate with Wildlife Frontiers a lot, which took time and some backwards and forwards. In the end it was so worth it, as it was a fabulous holiday. Peter also recommended the group experience and that was the right thing for a single traveller, we had a fantastic group of five and had all meals together. Otherwise I would have been on my own for the whole trip. "
Mrs Monika Maintz
Cedarberg recommendations matched perfectly!
"Cedarberg have a detailed knowledge of the country and took time to understand our budget, desires and preferences to create a wonderful multi-centred holiday for us. They were helpful fine-tuning the itinerary and put together a comprehensive package covering all our needs. We have used Cedarberg previously and each holiday has been fabulous. We will have no hesitation using them for our next trip. "
Mr Brian Collins UK