Overview
What next after the Red Sea? We offer a range of luxurious and diverse diving holidays in throughout Southern Africa. From the Indian Ocean islands of the Seychelles, Zanzibar or Nosy Be to the coastal waters of Mozambique and South Africa?
Here, you'll find idyllic islands and archipelagos as well as long pristine coastlines protected by fringing reefs. Experience some of the world's finest coral reef systems. Or enjoy the completely different adrenaline rush of shark cage diving in the Cape of South Africa.
We focus on diving in four countries: the Seychelles, Mozambique, Madagascar and Mafia Island & Zanzibar off the coast of Tanzania.
Diving Holidays in South Africa
However, diving in South Africa is worth considering. We favour the pristine reefs and warm sub-tropical waters of Coastal Maputaland  in KwaZulu Natal. Here you can have an adventurous diving experience in a true wilderness environment. Furthermore, you are likely to spot turtles, manta ray, dolphins and sharks.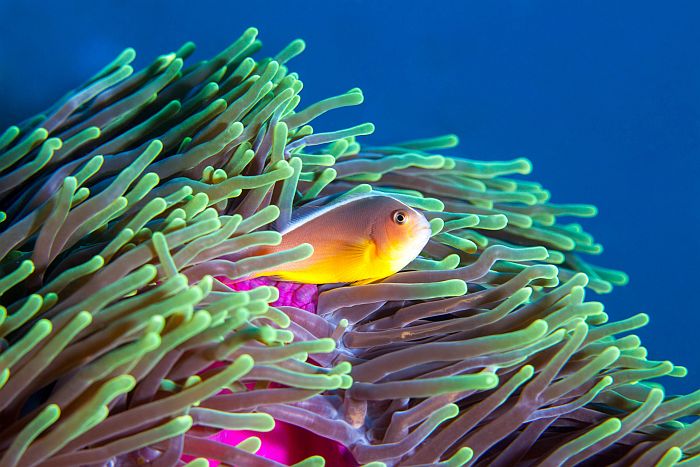 Highlights
Great diversity of diving experiences. From the unspoilt depths of Mozambique and Madagascar to the near paradise of the Seychelles or Mnemba Island
Amazing possibilities to dive with whale sharks - massive yet harmless whales up to 14 metres in length
Much less well-known and thus less coral bleaching than over-touristed elsewhere in the world
Great opportunity to combine a diving holiday with a world-class safari experience.
Southern Africa offers 5 of the 7 marine mammals in the world
A varied and fantastic holiday that we will never forget
"Milandi interpreted all our needs perfectly and the tailor-made holiday was way beyond our expectations. As a first time visitor to South Africa, we were quite apprehensive about safety, but all the places chosen for us to stay in were comfortable and hospitable. "
Mr Andrew Thompson
A quite outstanding holiday
"We have just returned from a quite outstanding holiday. Milandi listened to what we wanted and organised it perfectly. The standard of the whole trip was even better than we expected and the itinerary was interesting, enjoyable, relaxing and fun in exactly the right proportions. "
Mr Allan Cole
10 out of 10 for everything
"The holiday was exceptionally good and we all enjoyed every moment, especially my son Stephen (10 years old). The fact that Stephen enjoyed it says a lot since he is a seasoned traveller (as are most expat kids) having been to almost 20 countries already in his lifetime. We returned with more than a thousand photos and wonderful memories of what Africa can offer at its best "
Family De Waal,
Natasha Jantjies
Africa Travel Specialist
Hi I'm Natasha, I'm here to help you plan your ideal holiday experience
We arrange trips to more than 100+ destinations throughout the African continent.
Top picks for Diving Holidays
Did you know
Water temperatures

Warm water year-round (excepting South Africa)

Marine mammals

Southern Africa offers 5 of the 7 marine mammals in the world
Outstanding & First class
"We are back from our trip to SA and having had just the best time ever. Everything slotted into place perfectly and all the accommodation and activities you booked for us were outstanding. Couldn't have been bettered, you chose very well! Stands out as one of the best trips we've ever had. Virtually everything went like clockwork and we had a fantastic time. You did a brilliant job and the info pack was first class. The best organised holiday we have been on. We will defintely go back to Africa "
Mr& Mrs Cott, UK
Ginny made excellent suggestions
"Ginny made excellent suggestions for our holiday ensuring we had a good variety of things to do which suited the whole family. "
Mrs Mary Creayen, UK
Peter did a brilliant job
"Everything went as planned Peter did a brilliant job helping us to plan the holiday "
Mrs Sandra Cutmore