Cooking Tour Experience by Cooking Wild Safaris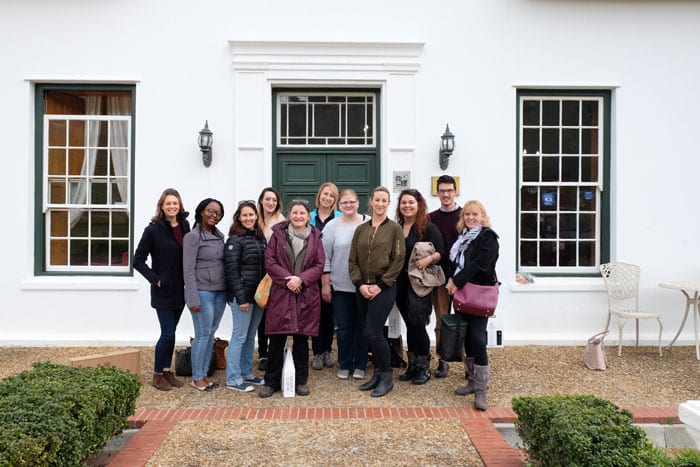 Cooking Tour Experience by Cooking Wild Safaris
I recently went on a 2 day cooking tour hosted by Cooking Wild Safaris. This new and exciting, all inclusive program gives you a taste of African cuisine and the magnificent Franschhoek area. The setting is ideal for an experience like this. Franschhoek is after all known for it's top-class fine dining restaurants, beautiful gardens, wine farms and of course, for it's breathtaking views.
Cooking Wild Safaris combines the hospitality of Basse Provence Guest House with the restaurant and tasting rooms of Rickety Bridge Winery. These are sister farms, so getting to and from the cooking classes is quick and easy. Stir Crazy Cooking School – who have been operating in Cape Town for over 10 years – organize and run the cooking tour and classes. In addition, the chef and staff from Paulina's assist during the evenings to make the process run smoothly.
 Day 1
 We all piled into a bus and drove over the Mont Rochelle Mountains towards Villiersdorp after a brief orientation at Basse Provence. First stop: The Aphrodisiac Shack Smokehouse. The owner Sean, smokes everything he possibly can, from bacon and cheeses to chocolate and olive oil. After sampling some seriously delicious smoked bacon and a tasting platter of smoked salmon, salami and cheese, we headed off on our next excursion to Haut Espoir.

This boutique wine estate and cellar is a fascinating blend of vineyards, fynbos restoration, a riverine ecosystem, olive groves and an organic garden. They very aptly say that 'winemaking goes hand in hand with conservation'. We went on an informative walking tour of the fynbos and gardens. And were treated to a tasting of brandy-infused fynbos and wine.
With our activities done for the day, it was time to cook! The theme for the evening was 'Magical Morocco', and oh how magical it was.
Everyone was paired up and given 2 recipes to cook. Fresh ingredients were readily available and anything you couldn't find was found for you. My partner and I cooked a delicious cumin and roasted tomato soup and a traditional chicken tagine. The chef also performs demos as the evening goes along, so you learn about various techniques and get to see what everyone else is cooking. At the end of it all, we sat down and had a feast of starters, mains and dessert – how we fitted it all in I don't know!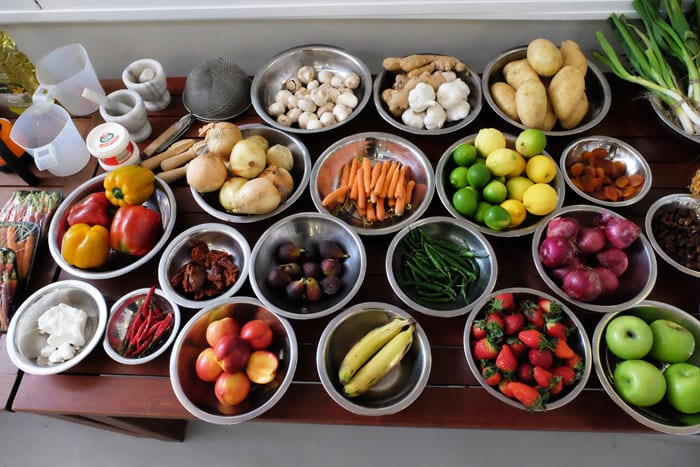 Day 2
Day 2 started with a lovely breakfast at Brasse Provence before heading to Babylonstoren. The gardens at Babylonstoren are absolutely magnificent! Most of the plants are edible so they can be used in the restaurant. We were taken on a garden tour where we were able to forage for veggies, herbs, fruit and anything else we could find.
Our next stop was the Terbedore Coffee Roastery. These artisan roasters import arabica coffee beans from 13 different countries and roast, blend and flavour them on site. They also sort and package every bag in the roastery. After enjoying a flavoursome cup of their Great Dane blend (a great pick-me-up!), we headed back to Rickety Bridge.
Rickety Bridge Winery has a gorgeous setting against the mountains with beautiful valley views from their tasting area. Before our very own wine blending experience started, we were treated to a chef's tasting platter at Paulina's. It's not very often you get to taste wine and then create your very own label and blend of wines. Thank you Rickety Bridge!
Our last evening of the cooking tour involved all things African. My contribution was bobotie samoosas and smoor snoek – both of which are traditional South African dishes. The other recipes included everything from strawberry and biltong salad, to lamb curry and rooibos malva pudding.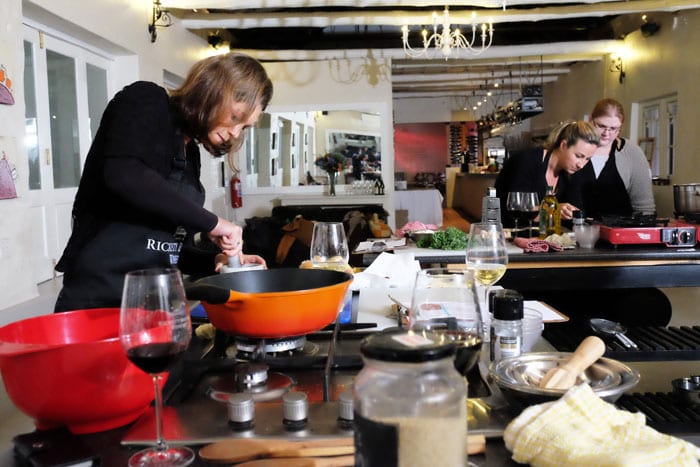 I got a true taste of the Franschhoek valley from this cooking tour. Furthermore, I managed to learn some cooking tricks and delicious recipes, and met some great people along the way.
Cooking Wild Safaris offer 1 to 4 nights and can tailor the course to your needs. Each tour involves a varied itinerary depending on numbers of days, the size of the group, the weather, and seasonal availability of produce.
Please note: Prices is subject to change, depending on the dates, seasons, the amount of people and the amount of nights. The price mentioned per person for 1 night.