This article aims to give you an indication of where South Africa actually is right now in terms of Covid-19. South Africa continues to adhere to the protocols of social distancing and mask-wearing in public spaces. However the economy has not been locked down, as the Government simply does not have the resources to support closed businesses. Domestic tourism has continued since August 2020 with no discernable negative impact.
Recently we have seen an uptick in cases. And so we are in a 3rd wave at the moment. However the current forecasts are that it should not be as severe, firstly because the Government has acted earlier and introduced restrictions on alcohol sales at weekends ect. (Level 3)
Vaccination Update
We are currently vaccinating the over 60s and this first stage should be completed by end of June. As we have a very young population, I believe it is more interesting to look at vaccinations of our adult population. Then we will open up vaccinations for the over 50s in July. The current aim is to have vaccinated 70% of all adults over 25 by the end of the year. We have vaccinated 11% of all adults (1st dose) so far.
Case Update: 15th June 2021
The 7 day daily average is 7450 (for a country of 60 million people). Daily deaths have also increased but not dramatically. We were averaging around 60-70 deaths. We are now averaging around 100-120.
We have entered Tier 3 of restrictions (which is a curfew from 10pm to 4am, and no large gatherings of people). This has no real impact on visitors as restaurants are allowed to serve alcohol. There is a ban on buying alcohol at weekends to reduce the consumption of alcohol. This has been proven to have a material affect on number of hospitalisations in the poorer areas of cities (from accidents etc). And thus it increases hosital bed capacity.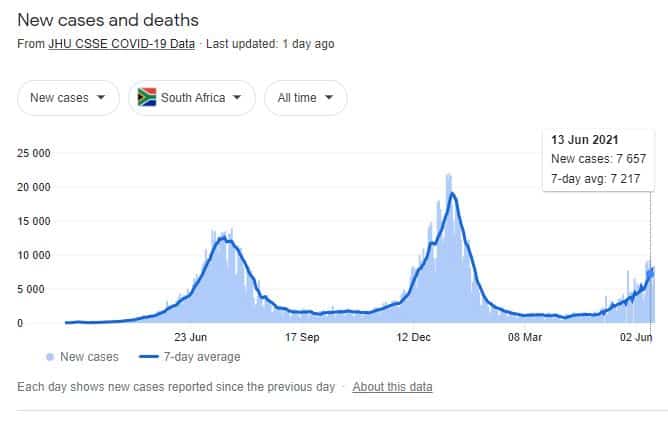 Other African Destinations
Other African Destinations have escaped the worst, despite what the various Media may imply. With the exception of Tanzania, whose official caseloads are highly suspect, other countries have carefully monitored cases and deaths. All our other destinations such as Botswana, Kenya, Namibia, Rwanda, Uganda, Zambia and Zimbabwe have low cases overall AND low cases as measured per million of population.
Why this may be will be the discussion point for future years. But probably the following are contributing factors in their favour.
Young population (average age being less than 20 in many cases)
Mainly living with access to ventilated spaces and the outdoors
Not high levels of pollution
Not high levels of 1st world health issues eg. diabetes, obesity etc
Vaccinated with BCG jab which may have given some protection
Country Comparison
Below we show visually how the South African case chart compares to the USA, Germany, UK and France, (the latter two with a similar population size.)
USA, UK and Europe are seeing decreasing cases due to vaccinations. So currently South Africa is not faring so well.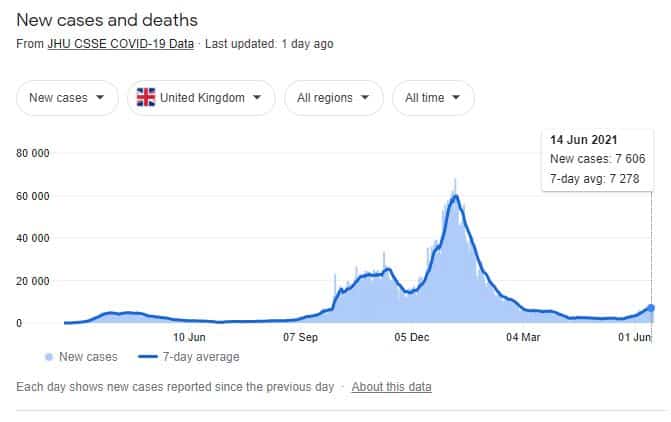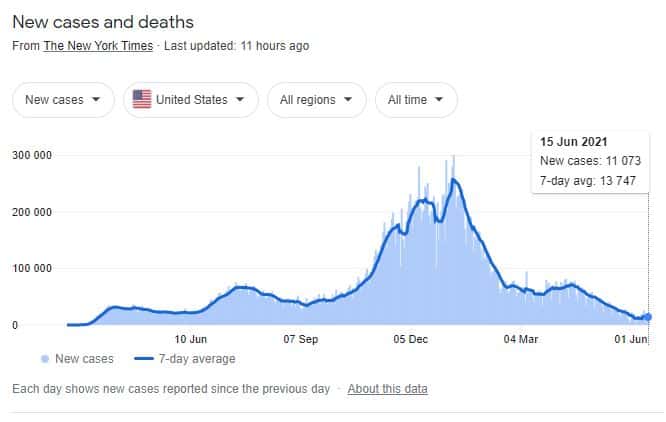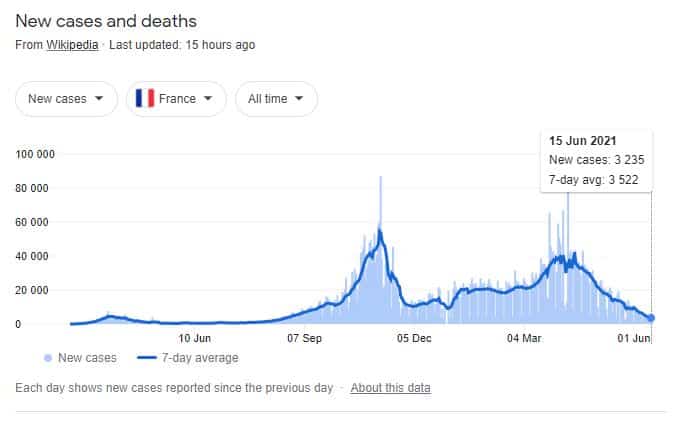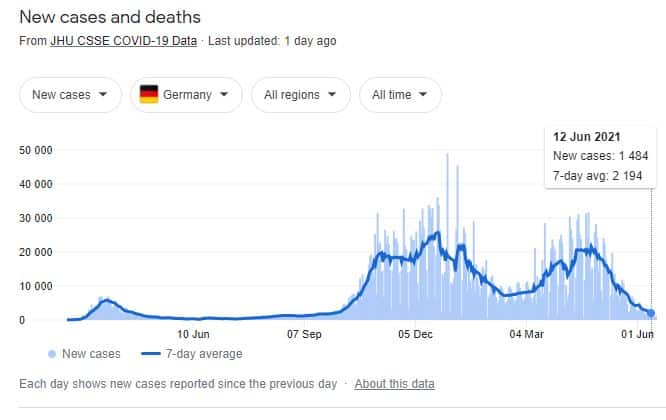 World Rankings – 16 June 2021 (Note: The lower, the better!)
Cases per Million Population
Deaths per Million Population
USA
14th (improved from 12th)
20th (improved from 18th)
UK
51st (no change)
19th (improved from 17th)
France
25th (improved from 22nd)
23rd (no change)
Germany
74th (no change)
47th (no change)
South Africa
93rd (improved from 91st)
52nd
Only European Countries with better rank:
Norway (102nd)
Denmark
(Excl small tax havens like Isle of Man)
Iceland
Plus the 3 already mentioned
Finland
 In population size, South Africa is 25th largest
Source: Worldometers.info – South Africa
Thus – though Covid-19 in South Africa has certainly been an issue – it has actually fared better than nearly all European countries & the USA.
Other African Destinations have been even less affected
Botswana – 98th lowest country in world in terms of cases per mill population (similar to Norway)
Namibia – 103rd – As they famously say, they have 17 times more elephants than Covid cases
Zambia – 140th
Kenya – 150th
Zimbabwe – 157th and 7% vaccinated
Mauritius – 186th and 17% vaccinated
Seychelles – one of the most vaccinated countries in the world (68%)
Vaccination Programme
Our vaccination programme started at a glacial pace. As you know, many developed countries have been able to secure large quantities of the first available vaccines upfront. However – after a slow and poor start – South Africa has started on its Phase 2 vaccine programme to vaccinate the over 60s by the end of June. The Government is enlisted the assistance of the Private Medical Aid companies & Pharmacies to distribute the vaccines, and reports so far have been good.
South Africa has now secured enough vaccines (50 million to date) to vaccinate approx 80% of people 25 years and older. But the supply of these vaccines is staggered. Current estimates are that we should have herd immunity by the end of 2021.
Currently the two vaccines used in South Africa – the Johnson & Johnson Vaccine and the Pfizer vaccine have shown good efficacy against the Beta variant. And the vaccine manufacturers are doing further tests to identify possible changes to their vaccines to be able to cope with current and the inevitable future variants. Just as happens with the Flu vaccine each year…
We are not relying on vaccination alone and various protocols are being used within the Medical Community which seem to reduce the likelihood of serious illness and death.
Note: Only 6% of South Africa's population is over 65 years old which means that we have fewer people in the high risk categories. Plus 28% of our population is under 15 years old and 43% is under 25 years.
Very little social distancing amongst this lion pride!
Tourism in South Africa
Furthermore since emerging from its first wave, South Africa has benefitted from a small, but enthusiastic, local market for tourism (September to onwards). During nearly all of these months, our case numbers have remained steady except for the Christmas spike. This is does seem likely the safe tourism is perfectly possible.
Cedarberg Africa has a small number of international clients in the country at the moment or about to travel. They are NOT locked in and in fear for their lives.
South Africa has developed a comprehensive set of protocols for hotels and game lodges:
Safe-guarding entry to the hotel or lodge, temperature testing, screening and hand-washing on arrival
Clear social distancing protocols with capacity limits for vehicles, restaurants etc
A "theatre of cleaning" but also putting the amount of room cleaning & staff entry into the hands of the client. If you don't want someone returning to do a turn-down, you don't have to.
Clear and explainable protocols around eating (Buffets are out. A la carte meals and room service are in.)
Increased use of travel apps so that you don't need to touch menus, wine lists or in room information. All the info is now on people's phones.
These protocols have been refined and become second nature.
The Nature of our Destination
And, South Africa, unlike many other destinations, is primarily an outdoors destination. And we all know that being outdoors is the safest place to be as viral transmission is much lower.
We are not a land of colourful bustling markets, picturesque but crowded alleyways. Or fascinating, but all-too-well-visited, museums and art galleries
Rather, we offer:
Unspoilt, uncrowded beaches
Vast expanses of scenic wilderness
Quiet forest or mountain trails
And of course prolific game reserves. Where we don't promise that animals will practise social distancing!
So we are ready to welcome you back whenever you want to venture forth…